Villas in Italy
Beautiful collection of villas throughout Italy
Browse our villas by region
Browse our villas by type
Check out our last minute discounts for villas in Italy
Check out our fantastic last minute discounts we can offer on villas for weekly bookings in August & September 2022
Villas in Italy 2023
Are you dreaming about holidays in Italy? Start planning for 2023 and browse our Italian villa collection with over 1,000 handpicked properties ranging from budget friendly apartments to luxury high-end villas.
We believe there will be high demand for villas in peak season therefore strongly advise to book early.
Specialising in villas in Italy since 2003
We are an established Italian holiday accommodation provider and our passionate team have been arranging bespoke villas in Italy and Italian apartments for over 15 years. Whether you are looking for a luxury villa in Tuscany with a private pool, a sea view apartment on the Amalfi Coast or a secluded Trullo in Puglia, our portfolio comprises of hand-picked properties in picture-perfect locations throughout Italy to make your holiday unforgettable.
We are not just a booking portal, we have unrivalled experience in accommodation booking and a wealth of Italian destination knowledge. Over the years, we have developed impeccable relationships with holiday home owners and partners in Italy, so you can rest assured that you will always be in safe hands to ensure a perfect holiday.

We can find the perfect Italian holiday villa for you, whether you are travelling as a couple, a family or a large group with our complimentary property search, which takes the hassle away from your booking. We offer a wide range from luxury villas in Italy with private pools to self-catering apartments in Italy for those on a budget but still wish to experience an Italian holiday.

We would love the opportunity to talk to you about your next trip and are confident we will provide the perfect holiday villas in Italy for your needs.
Please give one of our team a call on +44 1332 920 049, email us on info@holidayhomesinitaly.co.uk or simply browse through our unique collection of luxury villas, Italy villas with pools, pet friendly villas, sea view villas and many more to choose from.
Have a read of the comments some of our most satisfied customers kindly sent us
Ian - Vista Spettacolore - Amalfi Coast
"Holiday Homes Italy were so amazing from start to finish, and everything was arranged to the finest detail. I can't praise Mark enough for the quality and professional service we received, nothing was too much trouble. Our villa Vista Spettacolare was on recommendation from Holiday Homes in Italy and we were not let down. The welcome we received from the owner Enzo was amazing and he couldn't do enough to ensure our stay was special, and that includes his home made Limoncello !! The villa is situated overlooking the sea with an amazing infinity pool, which is just so relaxing and includes jacuzzi gets too ! There is so much space around the villa and it is lovingly decorated throughout. There is no need to leave the villa, because you have everything there, but if you do a bus takes you into Positano, Amalfi and Sorrento located at the entrance gates to the villa. Positano, a glorious picturesque town, is only 2-3 miles away, Amalfi is a further 5 miles on and Sorrento is only 10 miles from the villa. There are three beaches at the foot of the cliff where the villa is situated and this takes about 15 minutes to walk down to. This is an amazing place to stay and will fulfil your dreams of a relaxing holiday taking in one of the most wonderful parts of the world. The owner Enzo provides the finishing touches to a special stay to ensure you have everything you need. Highly recommended !!"
Jeremy - Villa Melone - Tuscany
"Firstly, can I thank you for your service in arranging the holiday. You were extremely helpful and prompt in replying to all of my queries. You handled our brief well and found us a property when we were struggling to do it ourselves. Your instructions were clear and accurate. Great Job. The House. Pisa airport is 28 minutes to the west and Florence 45 minutes to the East. Siena is 1.30 hrs south east. Rolling Tuscan can be found about 30 mins south of the house. The surrounding region is unremarkable flat farming land. The site on which the farmhouse is situated is different. It is on a hill surrounded by trees which makes for a green, secluded oasis. As for the property. The description on the website is extremely accurate, with the phrase, "Traditional Tuscan Farmhouse," encapsulating the essence of the property. The house is rustic which brings its own charm. The downstairs bathroom needs renovating but the others are bright and modern. The beds are comfy and there are plenty of seating areas. The kitchen is large but the owners need to invest in pots and pans. 1 frying pan, 1 saucepan is not enough when the house can cater for 8 people. As for spoons, there were 2. Everything else was fine. The outside is fabulous. The owners spends a great deal of time and effort in making the grounds and pool perfect and they need to be congratulated for it. Well mown green lawns, which are watered every day, surround a large private pool which is shallow enough for children and deep enough for extra fun. I reckon it was 2.5M at the deep end. We were a family of 2 Adults, 3 children and 2 grandparents. It was big enough for us to rattle around in. We had a great time. Well done Homes in Italy, we hope to use you again."
Anita - Casa Pietra Vista - Umbria
"Our stay at Casa Pietra Vista was perfect for our family who had travelled from the UK, Australia and New Zealand. The attractively restored house is large, clean and well presented with everything you could possibly need for a relaxing holiday. The views of the mountains and the nightly sunsets are literally magical. Anna and her team work so hard to ensure that everything is perfect, unobtrusively keeping the pool clean and beautiful gardens neat. Ripe tomatoes, cucumber and melon from the vegetable garden were picked and delivered for us to enjoy. We have travelled in Italy before, but would recommend Umbria for its exciting scenery and beautiful hilltop villages - we have been converted and will always head to Umbria in the future. Thanks to Anna and her team and also to you, Mark for finding the property and recommending Umbria to us. We are already thinking about going back next year, so will be in touch!"
Stephanie - Casa Bosco - Tuscany
"HIGHLY RECOMMENDED!! Casa Bosco was absolutely fantastic - it exceeded our expectations! From the moment we arrived and met the key holder who was very friendly and helpful through our entire time at this beautiful property, we couldn't have been happier. The views are stunning from both the house, the many seating areas and from the pool - we could quite happily live there!!! The house was clean and tidy and had everything we needed. The towels are so soft! The only thing that would make this place better would be air conditioning - the house was cool in the day but as we needed to keep the windows closed at night we struggled to sleep properly - the heat was almost unbearable to be fair! That said, I would definitely stay again and would like to say how happy we were with the level of communication and help from Mark at Homes in Italy. Our next trip to Italy will most certainly be booked through this company"
Why book your Italian villa with us?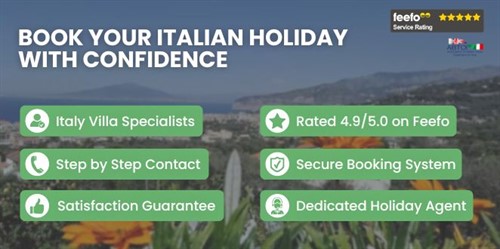 Value
Discover a wide range of villas in Italy at the best prices, flexible payment terms, excellent early booking & last minute offers with no hidden costs

Choice
With a great choice of over 1,000+ hand-picked holiday villas in Italy ranging from those on a budget to clients looking for an Italian dream

Tailored
We are proud to be Italian specialists for your holiday, where enquiries are bespoke to you. Our expert knowledge helps you make decisions

Trusted
Dedicated Italian Villa Agency - Benefit from over 15 years experience, great customer service, secure booking and thousands of satisfied clients