Romantic apartment for 2 people in Praiano on the Amalfi Coast
Casa Panoramico
1641
Description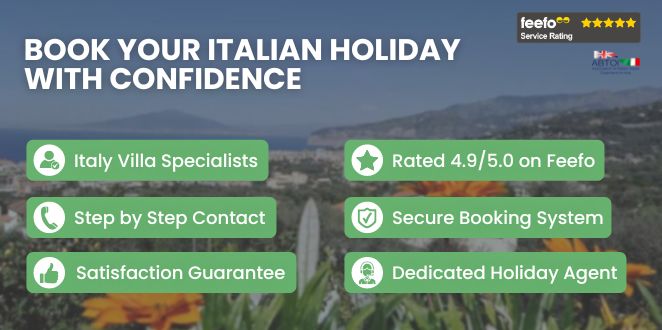 Casa Panoramico is situated in the charming town of Praiano and can be reached from the main road, by walking for around 50m along the town's characteristic alleyways. It is an ancient house, with dome vaults, and has its entrance directly from the alleyway.
The apartment is bright and spacious and offers breathtaking views of the sea as well as Positano, the Faraglioni of Capri and the legendary Li Galli islands. From the accomodation, a stairway (approximately 500m) leads down to the beautiful La Gavitella beach.
The apartment is tastefully furnished, with great attention paid to every single detail with wifi internet, air conditioning and a private outdoor area which is fully equipped for "al fresco" meals.
It is the ideal location for anyone who wants to enjoy the quiet, the silence and the fragrances of a garden whilst still being close to shops, restaurants and, of course…the sea! Praiano is an excellent location from which to visit the whole Amalfi Coast.
Accommodation - size 110sqm - sleeping 2 guests, 1 double bedroom, 1 bathroom.
Lower ground floor - entry directly from the alleyway: large living room with fireplace and dining room and access to the panoramic garden with sea view, kitchen, 1 double bedroom, 1 bathroom with shower.
Large patio overlooking the panoramic garden with sea view.
Location/distances
The apartment is located in the town of Praiano. Positano 7km, which can also be easily reached by public transport, Amalfi 9km, Ravello 15km.
Naples Airport 60km.
Read more about Casa Panoramico
Amenities
Facilities:
Coffee maker
Cooking utensils
Kettle
Oven
Hob
Washing machine
Garden
Entertainment:
Stereo System
Amenities:
Internet
Air conditioning
Baby cot
Sea view
Walking distance to:
Walking to beach
Walking to bars or restaurants
Walking to shops
Walking to village/town
Rates
| Start Date | Weekly Rate (£) | Minimum Stay | Arrival Day |
| --- | --- | --- | --- |
| 25 Jun 2022 | 1,460 | 7+ Nights | Saturday |
| 27 Aug 2022 | 1,325 | 7+ Nights | Flexible |
| 24 Sep 2022 | 1,060 | 7+ Nights | Flexible |
| 03 Jun 2023 | 1,460 | 7+ Nights | Saturday |
| 24 Jun 2023 | 1,590 | 7+ Nights | Saturday |
| 26 Aug 2023 | 1,460 | 7+ Nights | Saturday |
| 23 Sep 2023 | 1,195 | 7+ Nights | Saturday |
Price includes - central heating, electricity, baby cot, 1  set of bed and bath linen per week
Additional charges payable at the property
| Compulsory charges | Cost |
| --- | --- |
| Refundable security deposit | €200.00 |
| Final cleaning | €50.00 |
| Air conditioning - price per week | €50.00 |
Availability
Booked
Provisional
Available
Reviews
We had an absolutely wonderful time. From the moment we landed to the moment we were dropped back at the airport it was perfect. I spent so long, as you know, trying to find the right place. I needed somewhere that would allow me quiet reflection as well as a holiday with plenty to do and interesting entertainment both historical and commercial:)
Our driver to the apartment was absolutely superb. He spoke to us all the way, stopping for the view and to buy fruit from a local seller.
On arrival the owner greeted us with such style (I won't spoil it for those who are still to visit) and she is a lovely woman who clearly takes great pride in her place. The location was perfect for all the things we wanted to do. We travelled around by speed boat (to Capri which was awesome), water taxi (driven by a singing Italian taking us to the most romantic restaurant on the sea-front), by ferry (from Amalfi to Positano), by foot (along roads with breathtaking views), by local bus, Sita bus, train, (to Pompei and beyond), open top sightseeing bus (to Ravello, which was life-affirming), and we even got lifts from locals by car all the way to Nerano and back!
We will feel forever guilty that we did not water the plants on our beautiful terrace, but the locals were very forgiving.
I would not hesitate to use your service again and plan to do so for our next holiday. The village, the people, the apartment and your organising, made this the most superb and memorable holiday we have ever had.
Please pass our thanks on and hopefully we shall be in touch again soon.
  Sep 2019
We loved the place and Praiano
The apartment (upper level of a house split into two luxury rentals) has an unobstructed view to the sea, Positano and the islands in the distance. The owner and her assistant were wonderful as well. They greeted us with fresh flowers and a bowl of lemons from the garden and gorgeous red cherry tomatoes which are full of flavor impossible to get from a greenhouse or when shipped to a grocery store from far away.

The units had wireless and TVs with Sky boxes (the latter not necessary as the surroundings are far better to look at and absorb than anything on TV). They were wonderfully located just below the church and close to the restaurants and grocers of the town. We got used to the hundreds of steps down to the beach and the trip was worth it. The water was wonderful and for a stone beach, we just rented the chairs and enjoyed the Gavitella beach on several days of our stay. The water is in a protected bay so there are no waves but I would recommend brnging your water shoes if you plan on visiting other beaches in the area as they are not sandy but rocky or pebbled.

We were so happy we did not end up in either Positano or amalfi. Both of these towns were crowded with cruise ship day trippers and large groups following guides holding up signs or umbrellas to follow. They were also very commercial with boutiques everywhere--some nice but many selling the typical tourist magnets, t-shirts and aprons with lemons on them. We found the same to be true of Capri but the boat ride there--with some grotto viewing and a swim off the boat in a private cove was the highlight. Capri the town is overrated in my opinion but the natural beauty of the island is very nice if you stay out of the center and avoid the cruise ship crowds. Seeing the coast by sailboat or a small chartered motor boat would be well worth the cost. If I go back, Praiano would be a good place to kayak from as well and if you are a swimmer--bring your goggles! Great water and coves to swim in.

Praiano was a gem of a town with a beach that is the only one the coast we were told that gets the longest sunshine and where you get to see the sun set in the west into the sea. It was a 15 minute bus ride or a short car or scooter ride from Praiano to amalfi (8 km) or Positano (10 km) and we went to see both but were super happy to return to Praiano where we dined with locals mixed equally with tourists. It is a tiny town but with a fun beach that Picoletto--the owner and host that makes everyone feel like they are part of his special beach cafe community--makes the setting. The water is clear and was warm in September when we went. There was also a boat from the beach that would take people over to Positano for free if they ate at the restaurant which was excellent. Praiano had several very good restaurants. La Strada had outstanding pizza and a waiter- Lorenzo who knows his wines and loves to introduce you to some of the local regions finest. It also served wonderful fresh fish and I loved the "crazy water" sauce spiced up with chiles (red cherry tomatoes, parsley, garlic, white wine, olive oil and chiles). The fresh fish in all the places was excellent as were the cozze or mussel soup (which isn't soup as you may know it but a mussels marinara).

Overall it was a beautiful vacation and I was very happy to have had a rental over a hotel for the week--especially in Praiano where the locals still outnumber the tourists!
  May 2019
Safely back in the UK and missing the Amalfi Coast!!

Firstly can I say thank you for your excellent support before & during our holiday. Nothing was too much trouble for you and as a result everything ran really smoothly.

We loved both Praiano and Casa Panoramica. We wanted to be based somewhere relatively quiet with good access for sightseeing and so Praiano was perfect as was the villa. The house is lovely and very well positioned for public transport, restaurants and local shops. However it was the garden that made it for us giving us a pretty, quiet, comfortable area with stunning views to start and finish each day.
  Sep 2018