Holidays in Amalfi, Ravello, Minori & Maiori
Villas in Amalfi I Apartments in Amalfi I Apartments in Ravello
Our guide to the area
Amalfi
Amalfi boasts some of the most impressive coastline and architecture in Italy. Many people take this stunning road trip to marvel at the dramatic Mediterranean view and to experience one of Italy's most picturesque destinations. For those who want to experience as much as possible, staying in one of the lovely villas in Amalfi will provide the perfect base form which to explore this breath taking region.
With its sun-filled piazzas and small beach, Amalfi exudes history and culture and there are plenty of cute bars and restaurants to relax in on an evening.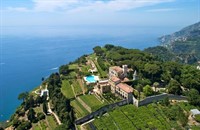 Ravello is a must see town nestled in the hills above Minori which offers the theatrical gardens of Villa Ruffolo (with a host of summer events), pretty courtyards, ancient churches and some of the best views over the coastline. With its crumbling walls, rows of lemon trees and wisteria, the town gives just the sort of visions that you go to Italy for! If you are looking for more of a relaxing break on the coast, then Ravello is the perfect location. Its a short drive or bus journey down to the coast and you benefit from gorgeous green views and a fabulous breeze to keep you cool on your Amalfi coast holiday.
Minori and Maiori
Apart from the smaller beaches in the well-known resorts, Amalfi is not a bucket and spade holiday but a place for those who wish to mix the beauty of the coastline with great sights, villages and a traditional Italian way of life. For those wanting to be within a stone's trow of the sea and sand, the best beaches are to be found at Minori and Maiori, where the latter offers a half-mile of Volcanic ash sand and the typical Italian lido style resort and facilities.
Accommodation
Amalfi villas are mostly located high above the town and offer spectaular views of the coastline and gorgeous outside spaces surrounded by lemon groves and lush vegitation. For those looking to be part of the scene and live the Italian lifesytle to the full Amalfi apartments offer a unique opportunity to stay on often old palazzo's and buildings which are steeped in culture. Amalfi accommodation in the hills really offers a more relaxed setting than right on the coastline.
Ravello villas, for example, are often very private and are away from the hustle and bustle of the main tourist trail but offer easy access to the town - which is especially great in the evening for a relaxing meal when the day trippers have left the town. All in all Amalfi accommodation is to a high standard in these areas and you will be spoilt for choice.