Lake Como - a stunning location for a relaxing holiday with amazing Villas




Lake Como - a stunning location for a relaxing holiday with amazing Villas
We are proud to offer a wide range of properties in Lake Como, from villas with private pools to budget apartments
Lake Como is one of the three most famous lakes in Italy and has been popular with International visitors for centuries. Good food, a relaxed lifestyle, warm summers and autumns make it a perfect destination for holidays.
Lake Como is one of the three most famous lakes in Italy and has been popular with International visitors for centuries. Known for its dramatic scenery and shaped like an upside-down letter Y, with three slender branches with meet at the resort town of Bellaggio. Renaissance villas, castles and beautiful gardens are a reminder of the times when Como was a playground of the European elite. Its legacy continues today with Milanese fashion designers, footballers and Hollywood film stars all gracing its shores but you certainly don't have to be a celebrity to take part and a holiday in Como need not break the bank. Wordsworth thought it "a treasure which the earth keeps to itself" surrounded by abundant vegetation that reflects and zigzags across the water, many say the most romantic of all the lakes.
In addition to visiting the various pretty towns around the lake (Como has a twice weekly market which is worth a visit), there are a wealth of activities on offer from golf to tennis, boating and fishing. The lake also offers easy access to the many beautiful cities in northern Italy, such as Milan, Bergamo, and Turin, where there is no shortage of culture, history and designer shops! The increasing numbers of designer outlets are just a short distance away.
In comparison to its famous sister Lake Garda, Como is a more tranquil and wooded lake with beautiful surrounding countryside. Just one hour from bustling Milan, the lake offers a calm and magical combination of Mediterranean shrubbery and mountain peaks. It is 50km long and very deep. Good food, a relaxed lifestyle, warm summers and autumns make it a perfect destination for holidays.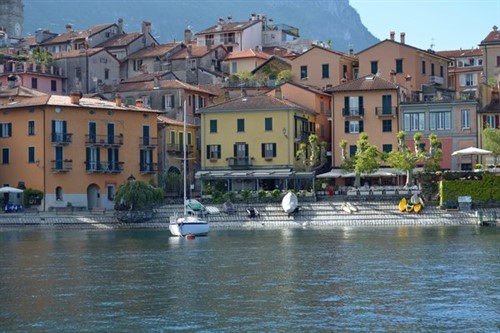 The Resorts
Como - magnificently located at the southern tip of the lakes left fork may not offer as much of the picture postcard prettiness we expect to find from a lakeside town. The old town however offers a pleasant place to wander or eat and funicular ride to Brunate has amazing views across the lake. It also offers a widely accessible hub in which the best transport links are provided to all of the lakes many resorts. The town of Como itself is very pretty and has an old walled section with an impressive cathedral and many Gothic and Renaissance buildings.
Menaggio - a lively & bustling resort providing a great base for hiking and cycling in the mountains. People also flock here to take advantage of its beaches for a sunbathe or swim and the famous Menaggio & Cadenabbia golf club. It boasts an elegant lake promenade lined with trees & flowers and attractive old buildings and therefore a beautiful picturesque setting of ancient origins overlooking Lake Como. The historic town sloping up the lake shore makes it an excellent place to stay.
Bellagio - this village, jutted out into the lake, is cradled by Cyprus spiked hills and is located on the tip of the triangle separating Como's two legs. Labelled the most beautiful town in Italy, known for its promenade & cobbled lanes and of course the Villa Serbelloni Park, an 18th century terraced garden with lake views. This tiny town is a superb spot to roam away an afternoon or two on a relaxing romantic vacation. It has an elegant air, yet with the water sports and mountain activities, is not a pretentious place.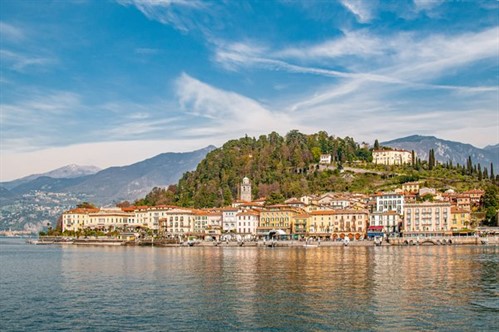 Lecco - this city is in the south eastern shore of Lake Como, surrounded by mountains of scored granite which it sits at the base of and is almost fjord like. This lesser known area of Italy's spectacular lakes is only an hour from Milan and can be a frantic commercial centre. However, it still offers delightful architecture against an impressive alpine setting with lakeside views but notably without the crowds and cruise ships of its more well-known neighbours.
Tremezzo - the wonderful villas, mainly Villa Carlotta and its gardens boasting over 500 flower & plant species set in over 14 acres of land, and imposing hotels built from the 18th to 19th century have made this lakeside retreat and international tourism hot spot. It's an overall laid-back place and popular with the discerning middle-aged traveller. This town with its imposing historical tower definitely has two distinctive sides, coastal and hilly, thus offering visitors of choice of different paths to follow.
Varenna - this attractive traditional fishing village is crowned at its peak by the Castello di Vezio which then cascade down the steep narrow alleyways to the lake front some would say this pretty village shaded by pines is the finest place on the lake to visit. Its lack of souvenir shops makes it a sleepy village where most come here to simply relax by the waters-edge.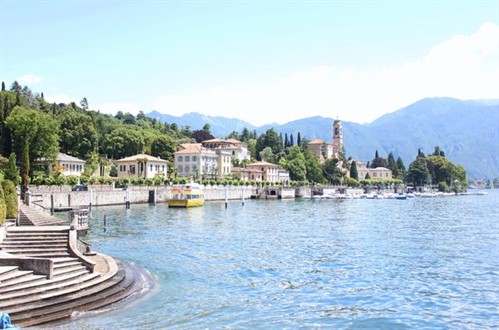 Top things to do in Lake Como
Walking - there is no shortage of hikes, trails and climbs from the shores and beyond of Lake Como. It is possible to discover the lake away from the crowds. A favourite of ours is to venture to the north of the lake which offers not only a selection of magnificent walks but the small towns in the north are important historically and have a great heritage. For an interesting two hour walk we start from Gravedona from its splendid Romanesque church of Santa Maria del Tiglio and head north to the picture postcard village of Domaso.
Cruises & sailing tours - there is so much to choose from on the crystal-clear waters and probably no better way to explore the beautiful landscapes of Lake Como, the question is where to start. Ranging from private sailing tours, passenger ferries, romantic sunset cruises in a venetian water taxi to harbour hopping tours with a glass of vino (or two) in each location. We chose an active tour of canoeing with a guide, exploring the Pian di Spagna nature reserve from the peaceful silence of the water. This three-seater Canadian canoe was ideal way to explore the lake and the River Mera discovering secret bays, waterfalls and white beaches.
Shopping - you don't need to venture to the worlds shopping capital of Milan to find world famous Italian brands. A lake that attracts the rich & famous is of course guaranteed to have an abundance of shopping opportunities from local silk manufacturers to high end designer wear. Do not miss Foxtown factory store outlet where you will find 160 outlet stores of Italy's most prestigious brands. Bellagio & Como have the largest selection of high street stores but the highlight has to be the market in Como on a Saturday morning which runs along the medieval walls of the town.
Sights & landmarks - colonised by the Romans in the 2nd century BC Lake Como is steeped in history. In the heart of Como itself lies the elegant Piazza Cavour, this rises nearby to the beautiful 14th century Duomo Cathedral, one of the best you'll find in northern Italy. Its gardens & nearby restaurants provide the perfect setting to eat, drink and socialise, admiring its impressive gothic architecture. Villa Carlotta is a great photogenic spot with majestic gardens and inside the you'll find a grand collection of ancient sculptures.
Wine tasting - there are many different varieties of grape on the lake, the most popular being a white Verdes, Roseia, Merlo and San Giovese. The main wine growing area is the Monte Vecchio hills in the north of Lake Como. The best time to visit the region for a wine tour is Autumn, during the grape harvest of Monte Vecchio. Cantina Follie is a wonderful wine bar in Tremezzo, found in the back streets behind the waterfront with a cave like interior you can venture outside to the terrace and balcony with a charming service and great ambience. The staff here will help you navigate through the local wine selection and if you are peckish you can choose from an extensive choice of delicious cheeses & hams.
Food & drink - Como has a great selection of restaurants, some are situated lakeside, where you can dine with fantastic views whilst others are hidden away in pretty back streets. As you would expect, some restaurants can be pricey but there are many serving reasonably priced local dishes. Traditional dishes in this area are Risotto, usually served with fish, Insalata Capriese, wild boar. For something sweet the traditional Miascia cake which has been baked in this area since ancient time or more simply strawberries with ice-cream is a popular regional dish. Our top pick and situated on the quieter northern end of the lake in Domaso, is a family run restaurant and farm shop, Agriturismo Sorssasa, every dish is sourced locally and from its adjoining farm, this rustic setting also hosts an impressive view of the lake and all meals are home cooked using traditional methods.
Beaches & swimming - the deep blue waters of Lake Como can be very seductive, an ideal place to sunbathe, surrounded by elegant villas to the south or jumping the waves in the north. Our favourite is situated in the ancient village of Domaso, with a long & beautiful beach with its impressive back-drop of near vertical peaks. For a daring dip, take a trip to the picturesque village of Nesso and the waterfall at Comacina where you can swim from the shore and into the waterfall itself.
Sports - the varied landscape of Lake Como and the surrounding region offers itself to extreme sports. For those who want to try something different and test their skills, there are companies such as Lake Como Adventures that offer a range of sports and outdoor pursuits, who offer a great Canyoning activity - involving abseiling, jumping and slinding through a series of canyons and cliffs to reach the ground or water below. This is a really fun way to explore Lake Como and you can find some truly stunning settings such as the canyons at Porlezza and Lenno. If you're an adrenaline junkie, then the Jungle Raider Parks in Civenna and Margno are highly recommended, from bungee jumping to ziplines.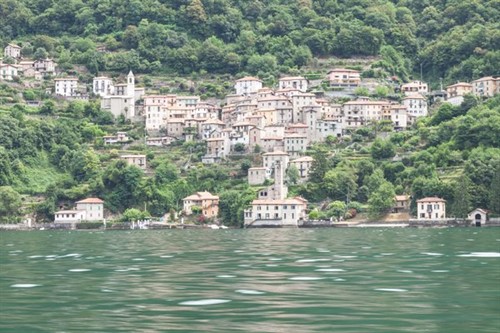 Getting around and to Lake Como
There are lots of alternative ways to get round Lake Como, even without your own vehicle, public transport will pretty much get you to anywhere you like. The buses & boat services are probably the best methods in the west to explore Como, Bellagio, Menaggio & Tremezzina. In the east we would recommend the train service between Lecco & Varenna. If you do have your own private transport you will find the roads around the perimeter much quieter than its sister Lake Garda.
The Lake Como region is an ideal holiday destination because of its ease of access from Milan, approximately 50km away, with three international airports in Milan, Bergamo, Malpensa and Linate. The close proximity to Milan makes it a popular weekend getaway destination for the locals, even in ancient Roman times Italians flocked here to escape the heat of the city and recharge their batteries in the cool mountain air, therefore if you prefer a quieter day out we recommend planning your excursions on a weekday.

Lake Como weather & best time to visit
The ideal times to visit Lake Como are late spring when the flowers are starting to bloom or early Autumn when the grapes are being harvested. April and October are the quietest months when temperatures tend to be warm. July & August are obviously the most popular, therefore whilst the sunshine is pretty much guaranteed so are the crowds.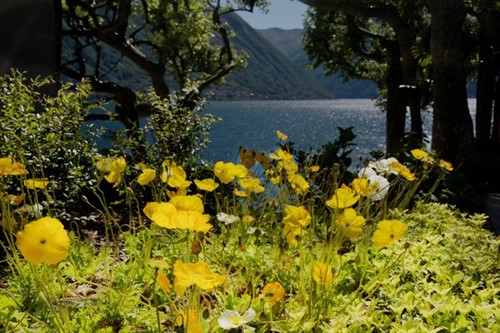 Why visit Lake Como
Visiting Lake Como is a must-do thing on your Italian itinerary. There is good selection of Lake Como villas to choose from, many with breath-taking views, from wonderful period villas to exclusive apartments. Parts of the lake are extremely expensive and on a par with Tuscany but there are many options suitable for those looking to explore the region on a budget. All in all, Lake Como is a great option for a holiday, more sophisticated than its sister lakes and is extremely appealing, offering both relaxation or plenty of activities in addition to some excellent varied choice of accommodation.