Lake Como - a stunning location for a relaxing holiday
We are proud to offer a wide range of properties in Lake Como, from villas with private pools to budget apartments
Lake Como is one of the three most famous lakes in Italy and has been popular with International visitors for centuries. Renaissance villas, castles and beautiful gardens are a reminder of the times when Como was a playground of the European elite. Its legacy continues today with Milanese fashion designers, footballers and Hollywood film stars all gracing its shores but you certainly don't have to be a celebrity to take part and a holiday in Como need not break the bank. In comparison to its famous sister Garda, Como is a more tranquil and wooded lake with beautiful surrounding countryside. Just one hour from bustling Milan, the lake offers a calm and magical combination of Mediterranean shrubbery and mountain peaks. It is 50km long and very deep. Good food, a relaxed lifestyle, warm summers and autumns make it a perfect destination for holidays.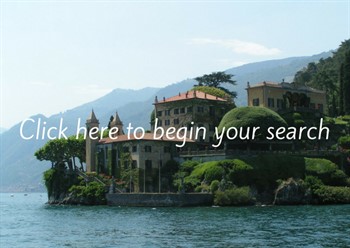 The Resorts
The town of Como itself is very pretty and has an old walled section with an impressive cathedral and many Gothic and Renaissance buildings. Menaggio on the west of the lake offers some lovely beaches and Bellagio in the south is most definitely the prettiest town on the lake with cobbled streets, pretty piazza's and lovely views. Other interesting towns include Limonta, Tremezzo and Lezzeno.

What to do?
In addition to visiting the various pretty towns around the lake (Como has a twice weekly market which is worth a visit), there are a wealth of activities on offer from golf to tennis, boating and fishing. The lake also offers easy access to the many beautiful cities in northern Italy, such as Milan, Bergamo, and Turin, where there is no shortage of culture, history and designer shops! The increasing numbers of designer outlets are just a short distance away.

How to get there?
This area benefits from being within easy reach of three airports; Bergamo, Milan Malpensa and Milan Linate, which have flights from regional airports throughout the UK.

Where to stay?
There is good selection of Lake Como Villas to choose from, many with breath-taking views, from wonderful period villas to brand new apartments and smaller properties in the hills. Parts of the lake are extremely expensive and on a par with Tuscany but there are many options that will meet the budgetary requirements of those. We also have a selection of Lake Como accommodation for those looking to explore the region but not stay in an expensive villa.

What to eat?
Como has a great selection of restaurants, some are situated lakeside, where you can dine with fantastic views, and others are hidden away in pretty back streets. As you would expect, some restaurants can be pricey but there are many serving reasonably priced local dishes.

Why Como?
All in all, Lake Como is a great option for a holiday. It is more sophisticated than its sister lakes; it is painstakingly beautiful and offers both relaxation and a host of activities in addition to some excellent standards of accommodation......