Le Marche - a less well know region of Italy with some truly wonderful luxury villas




Le Marche - a less well know region of Italy with some truly wonderful luxury villas
This region has yet to be discovered by mass tourism, with stunning coastline & beautiful countryside it is difficult to understand why
Beautiful countryside, impressive towns and a great coastline make this region worth exploring. If you are looking for a peaceful holiday, welcoming atmosphere and your own slice of Italy, then Le Marche hits the spot.
Hidden away in a rare and remote corner of Italy and sandwiched between the Apennine Mountains and the Adriatic Sea below, lies a region that has yet to be discovered by mass tourism, with stunning coastline & beautiful countryside it is difficult to understand why.
Inland, Le Marche is dotted with medieval towns set in some of the most stunning scenery, all with the stunning backdrop of the Adriatic coast in the distance. where you will find numerous long and unpopulated sandy beaches. It is such varied part of the central belt of Italy from its northern base with the cultural centre of Urbino towered over by the Apennine mountains to its southern reach and the elegant Renaissance town of Ascoli Piceno.
The resorts
Macerata - an elegant capital on an imposing hillside with a stunning backdrop of the Monte Sibillini, this cosmopolitan and lively town offers n plethora of beautiful squares, medieval town houses in its historic centre with a great range of shops and festivals to enjoy. A truly great place to relax, unwind, wine & dine in one of the many square's restaurants and cafes after a day of exploring the rest of region. For contemporary art lovers the Musei Civici di Palazzo Buonaccorsi should be a must-see part of your trip.
Urbino - the real gem of Le Marche and one of the best preserved and most attractive hill top towns in Italy, awash with magnificent stone houses and villas peppered along the steep streets of the city. Its celebrated Palazzo Ducale is world famous and puts it culturally on the map as once one of the most prestigious courts in Europe. The town is almost like an exceptionally preserved museum piece but because of its university has a real energic and lively feel. Once you have enjoyed visiting all its arts and treasures, in this town you can relax and enjoy its almost bohemian nightlife with some lovely bars and restaurants found in its centre.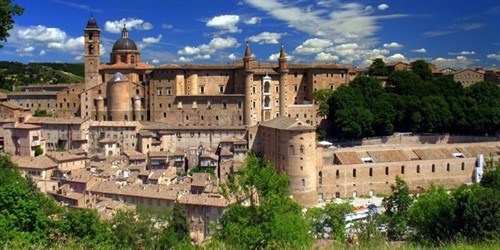 Fano - a fairly well-known beach resort along the Adriatic coast and stands out within the region of Le Marche boasting splendid beaches and a far-reaching coastline. With a modern, sheltered and sandy Lido at its beginning stretching down a long and more pebbly section where bathing is free to further south towards Torette and Marotta the more private end of the resort. The place itself is quite charming with a little fishing port and quaint historical centre to meander through.
Ascoli Piceno - This originally tribal "Piceno" town owes its popularity mainly to its medieval heritage and definitely fights with Urbino for its popularity. The Piazza del Popolo and its grand Palazzo in its heart are enchanting with a truly gothic feel. However, probably its main centre of activity is the Via del Trivio, a pretty neighbourhood and also the spot where you will find most of the towns surviving towers on the side of the cliffs with imposing views down to the river Tronto. History and tradition abound in this city and in particular its festival Quintana which is a medieval pageant held on the first Sunday in August where you can enjoy watching the locals joust in traditional costume.
Senigallia - A real family orientated resort and is best known for its "velvet beach" Spiaggia di Veluto and thus giving this resort a reputation for the best of the Lidos on the Le Marche coastline. Also popular to visit on this area of the coast is the Rocco Roveresca, an imposing 13th Century Castle which sits behind the Foro Annonario semi-circular marketing place.
San Benedetto Del Tronto - referred to as the "Riviera delle Palme" with an estimated 5,000 palm trees bringing cooling shade to its attractive promenade and therefore perhaps one of Le Marches most elaborate seaside resorts. The main appeal of this town is the wonderful 6km of white sandy beach, a perfectly idyllic setting for a family day out and a welcome swim in the turquoise blue azure of Adriatic coast. There's more of a family friendly vibe than most of its neighbours along the coastline, whereas others resorts tend to be more suitable for those looking for art & culture, this town has an plenty of entertainment and highly delightful nightlife. One of the most appealing aspects of this town is its beautiful bike paths where you can gently cycle for endless miles along the palm lined streets and adjacent to the wonderful sea-front.
Top things to do in Le Marche
Walking - expect magnificent views in this unspoilt region of Italy whilst out walking, renowned for its beauty, there are walks for every level, from peaks of the Apennines & Sibilini mountain ranges to long flat stretches of sandy beaches. With its diverse landscape, you'll be able to enjoy a long trek and sure to discover hidden treasures of a historical kind, deep ravines, lush valleys and definitely some of the most spectacular scenery in Europe. For a challenging but rewarding mountain climb the trek to the summit of Monte Sibilla, 3,000ft above sea level, a 10km ascent and takes around 4 hours from its starting point of Refugio Sibbilla, this exhilarating hike comes across one or two exposed ridges where you will need a head for heights but the panoramic views over this mountain range are certainly worth the effort. On this journey, pop your head into the famous Sibyls cave near the summit where the you will hear tales of enchanted witches.
Sights & landmarks - there's no shortage of things to see do and experience in this region from its breath-taking scenery of its mountains and coastline to its abundance of authentic historical landmarks. If its sea views you are searching for, there has to be a visit to the Conero Coast, not only one of Italy's most stunning but excitingly one of its least known. The stretch hides many private coves only reachable by foot or boat and also the charming fishing village of Numana with its pastel houses along its steep streets to the hamlet of Sirolo and wonderful panoramic view over the sea. We also greatly enjoyed a visit to the Sea Turtle Sanctuary in Numana where you can book a boat ride to watch the turtles on the local beach where they are released back in to the wild.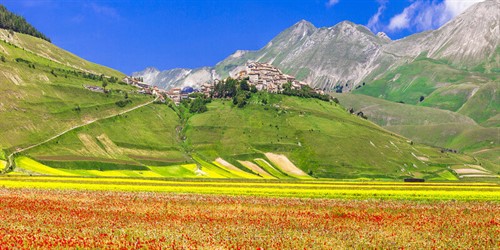 Sport & activities - with so much to do in this region you will be spoilt for choice and not just in the summer months. In winter in Sarnano there is a ski resort at Sassoletto. Here you will find an excellent spot particular for beginners of 10m chair/drag lifts and 9 pistes with some great off-piste and a snow park for the more experienced skier or snowboarders. If its more of a warmer experience you enjoy for your activities then the outdoor activity centre Gaia avventura nel Parco, organised activities include, rafting, archery, trekking and an adventure park.
History, arts & museums - the history of this region goes further back than Roman times and it is also said to be the birthplace of the renaissance and exceptional art treasures, many of which are now housed in the area's museums. For history a visit to Urbino's Palazzo Ducale is a must as you can not only see some magnificent works of art here by Raphael but also a splendid archaeological collection of Roman artifacts and not forgetting its stunning setting in the enchanting city of Urbino. For something lower key and for the music lovers out there you can take a trip to Rossini's birthplace in Pesaro which holds an ever-expanding collection of memorabilia.
Wine tasting - with Le Marche being a relatively unknown region outside of Italy it is not surprising that its wines are also undiscovered. Regardless of this however and now more recently, the regions wines are starting to appear worldwide and become more readily available outside the area. On the white wine front the most well-known grape of Le Marche is Verdicchio and they would say regarded highly in Italy as one of its supreme vinos. The regions finest reds are the lesser known Piceno and Conero but despite this the Montepulciano and Sangiovese are the ones they widely grow. For an independent wine tour to a family run business known for its excellent Verdiccio since the 1930s, we would recommend a visit to Azienda Vitivincola Marani. Your host Luca will give you a wonderfully proud tour of his family's vineyard, its history, the wine making process and then of course sampling the excellent offering they have.
Food & drink - Le Marche is home to some great gastronomic traditions. The food here is widely seasonal and the locals get the most out of their products by pretty much appearing in every dish. The most popular selection to see on the menu whether you are by the coast or inland would be steamy fish soups and plump meat stuffed olives. Rabbit and lamb are the most popular meats and usually accommpanied by the popular pappardelle pasta. Ristorante da Silvio in Sirolo offers an amazing Al Fresco dining experience. Enjoy its breath-taking views whilst sampling the local "catch of the day" cooked and served to perfection. Also, Le Marche are having a local liqueur revival and have brought back in to fashion a drink called Mistra, an aniseed digestive generally served at the end of the meal and with coffee.
Boats & sailing tours - there's an abundance of boat tours and trips along the region's extensive coastline. Le Marche is a great and cost-effective place to hire a boat, from self-drive motorboats to skippered yachts, it's a perfect way to enjoy a lovely day on the water and experience the regions beaches and rich and rugged coastline. It's also the only way to reach some of the pretty beaches on the Conero peninsular but if hiring your own boat is not for you then catch the ferry to the picturesque Conero beach from Numana.
Beaches - Le Marche is proud to boast it currently has 15 blue flag beaches, each being completely different to the next giving a very diverse choice to decide on. The largest beach resort is Pesaro but for a more picturesque sunning and swimming experience you need to head south past Ancona and on to the Conero Riviera. This stretch of coast is truly beautiful with little beaches sheltering below the stunning backdrop of the cliffs of Monte Conero. Some of this area's beaches are accessible by car but many of the more secluded spots you have to walk or catch a boat to. For a sunbath and swim with a livelier surrounding, head towards San Benedetto del Tronto with it s 6 kilometres of sandy beach and 5000 palm trees. It may be a little sleepier than its neighbour Rimini further north, which we think is a plus point, but it still has more than enough to keep you and the children entertained.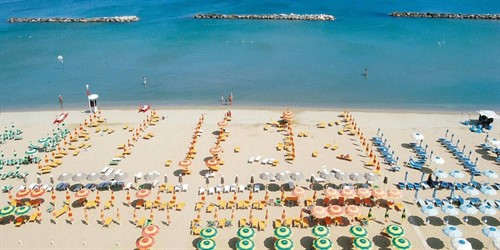 Events & festivals - Le Marche is probably best known locally for its many re-enactments of historical events in several of its towns and villages throughout the year. These are almost always in costume and can be very diverse from Pagan festivals to the more colourful of the region's carnivals. One of its most popular in August is the Feste del Covo in the small village of Campocavallo. This annual feast combines rural and religious traditions and art and is centred around a large float which is made entirely of wheatsheaves. For opera lovers the open-air opera in the Sferisterio arena is not to be missed annually during July and August.
Getting around and to Le Marche
Le Marche is served by Ancona airport but it is also possible to access the region by neighbouring Abruzzo airport in Pescara or a drive up the coast to the airport in Rimini which is just over an hour away.
While in Le Marche, getting around on public transport can be a lively affair and relatively easy. It is served well from the provincial capitals of Urbino, Pesaro, Macerata, Ancona and Ascoli Piceno. The 2 main rail routes are along the coast from Milan to Bari and across the country from Rome to Ancona. Ancona is also a major port and you can get ferries to Greece or Croatia. To reach the more remote areas though a car is really necessary.
Le Marche weather & best time to visit
A great time to visit this region is from May to September when you can ensure some lovely warm weather and limited rainfall. The rain tends to fall mainly in the months of February to April and October to December with July and August being very hot, although if you are more inland in Le Marche the temperatures are never as suffocating as they are by the beach in the height of summer and the evenings can be much pleasanter. The cooler months in the early springtime brings out the green hills and meadows with the wild flowers starting to appear and in autumn you can again enjoy the pretty changing colours of the landscape and its forests.
Why visit Le Marche?
As a holiday destination, Marche is a gem of a region with its own low-cost airport, offering most of the highlights of its nearest and most popular neighbours without the tourists. Beautiful countryside, impressive towns and a great coastline with 80km of spectacular coves and beaches, Marche harbours 26 resorts; from the picturesque views offered by Sirolo and Numana to the wonderful seafronts of Porto s. Georgio and Civitanova Marche, there are endless sandy or pebbly shores and natural bays along the rocky coast making this region worth exploring.
It's also immersed in Renaissance history, art and architecture and also an ideal location for lovers of this period, so you won't be short of things to see and visit! The regions elegant towns Macerata and Urbino are abound with Renaissance palaces, fortresses, beautiful squares and medieval houses. They offer lively historic centres, a broad range of shops and festivals. In the centre around Macerata, you will find the Sibillini mountains, an outstanding backdrop to the rolling countryside - it is hard to describe the beauty of the landscape with the green valley below and the towering peaks covered in snow.
For the more active, this area is great for walking and outdoor activities, especially in the central Sibillini mountain area, where you can even ski in the winter months. However, there's nothing wrong with making most of a pool and stunning backdrop and simply relaxing and immersing yourself in traditional rural Italian lifestyle! This is the area to find some absolutely wonderful renovated farmhouses with pools. Most are surrounded by beautiful countryside with views and are family-friendly. There are also some great villas easily within reach of the beautiful coastline - villas by the sea.
For couples, there are some lovely properties converted into smaller apartments with shared pools. We highly recommend villas in Le Marche with private pools to families looking to visit Italy without breaking the bank. Many of our luxury villas are situated in the beautiful hills of Le Marche, making them great locations if you love hiking or walking. After a great day exploring the mountains you can then relax next to your private pool.
Le Marche has been almost unknown to tourists until the last few years and makes the perfect getaway for a truly relaxing holiday. With a number of luxury villas to choose from in this region, you could be enjoying the sun and sitting by your private pool in no time. If you are looking for a peaceful holiday, welcoming atmosphere and your own slice of Italy, then Le Marche hits the spot.