Le Marche - a less well know region of Italy with some truly wonderful luxury villas
This region has yet to be discovered by mass tourism, with stunning coastline & beautiful countryside it is difficult to understand why
This region has yet to be discovered by mass tourism, with stunning coastline & beautiful countryside it is difficult to understand why

Le Marche has been almost unknown to tourists until the last few years and makes the perfect getaway for a truly relaxing holiday. With a number of luxury villas to choose from in this region, you could be enjoying the sun and sitting by your private pool in no time.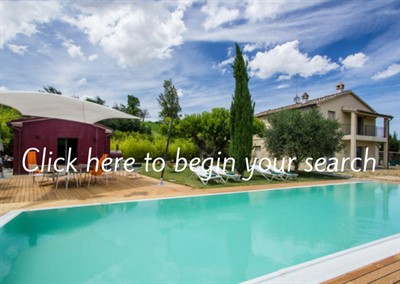 The locations
The regions elegant towns Macerata and Urbino are abound with Renaissance palaces, fortresses, beautiful squares and medieval houses. They offer lively historic centres, a broad range of shops and festivals.
In the north, Urbino itself has been quoted as being 'the ideal city of the Renaissance' and 'the Siena of the Marche'. The surrounding countryside is beautiful with rolling hills and easy proximity to coastal resorts of Fano and Senigalia.
In the centre around Macerata, you will find the Sibillini mountains, an outstanding backdrop to the rolling countryside - it is hard to describe the beauty of the landscape with the green valley below and the towering peaks covered in snow. Again, you are never far from the coast with Civitanova Marche, Port Sant'Elpidio and Porto San Giorgio.
What to do?
Many of our luxury villas situated in the beautiful hills of Le Marche, making them great locations if you love hiking or walking. After a great day exploring the mountains you can then relax next to your private pool.
Le Marche is immersed in Renaissance art and architecture that makes the region an outdoor museum, so you won't be short of things to see and visit! Set along the Adriatic Sea, with 80km of spectacular coastline, Marche harbours 26 resorts; from the picturesque views offered by Sirolo and Numana to the wonderful seafronts of Porto s. Georgio and Civitanova Marche, there are endless sandy or pebbly shores and natural bays along the rocky coast to explore.
For the more active, this area is great for walking and outdoor activities, especially in the central Sibillini mountain area. However, there's nothing wrong with making most of the pool and backdrop and simply relaxing and immersing yourself in traditional rural Italian lifestyle!
How to get there?
Le Marche is served by Ancona airport but it is also possible to access the region by neighbouring airport in Pescara or a drive down the Adriatic coast from Venice.
Where to stay?
This is the area to find some absolutely wonderful renovated farmhouses with pools. Most are surrounded by beautiful countryside and views and are family-friendly. There are also some great villas easily within reach of the beautiful coastline - villas by the sea
For couples, there are some great properties converted into smaller apartments with shared pools. We highly recommend villas in Le Marche with private pools to families looking to visit Italy without breaking the bank
What to eat?
Le Marche offers a wide range of centuries-old traditional food products and dishes featuring olives, ham and fish and there is an array of good wines including Verdicchio.
Why Le Marche?
As a holiday destination, Marche is a gem of a region with its own low cost airport, offering most of the highlights of its nearest and most popular neighbours without the tourists. Beautiful countryside, impressive towns and a great coastline make this region worth exploring. If you are looking for a peaceful holiday, welcoming atmosphere and your own slice of Italy, then Le Marche hits the spot.