Luxury Villas in Puglia, One of Our Favourite Regions of Italy
An excellent choice of holiday destination, we offer a good selection of villas in Puglia, from luxury large villas with private pools to budget village apartments
Puglia is a diverse region with a perfect blend of rustic landscapes and kilometres of pristine coastline; it boasts some of the cleanest beaches in Italy and it is rare to see overcrowding like in the northern beach resorts. The towns offer a wealth of history and its countryside is lovely and picturesque with olive trees, orange soil and pretty white houses - an artist's dream!

The locations
Escape to the sun and enjoy the beautiful surroundings of Puglia today. From luxury apartments such as Masseria Le Rose to the romantic Trullo Ciliegio villa with its private pool, we have the apartment or villa to give you a holiday that's memorable.
The region offers a raft of whitewashed towns and villages such as Ostuni (also known as the "White City") and one of southern Italy's most beautiful small towns. Situated on three hills, it is characterised by pretty white houses, small piazzas with bars, restaurants (many excellent) and exceptional views.
Smaller and more serene Cisternino is also a delightful hill town surrounded by expanses of vineyards, almond and olive groves. It is now known as one of the most beautiful in Italy (I Borghi piu belli d'Italia) and there is a maze of sun-bleached cobbled streets and alleyways.
Alberobello is another gem of a town; an upmarket town which is home to more than 1,000 Trulli properties (now part of UNESCO World Heritage) and a great range of restaurants and boutique shops. All these towns are surrounded by beautiful countryside marked by olive trees and orange soil.
If the private pools in our villas aren't enough, we also have a number of apartments situated close to the coast so you can enjoy romantic walks or take in the local sights of these beautiful coastal towns. On the coast you really are spoilt for choice! Polignano a Mare and Monopoli are gorgeous towns clinging to the rocks with quaint alleyways and lively centres as are the lively coastal resorts of Otranto and Gallipoli in the south.
What to do?
Puglia is steeped in history; over the centuries, the region has been invaded by the Greeks, Romans and Moors and each has left their mark on Puglia's art and architecture, so there are plenty of great towns to visit. The City of Lecce with its unique Baroque architecture is now being quoted as the "Florence of the South".
For foodies, a wine or olive oil tour will make a great day-out and with a huge coastline and lovely countryside, this region is perfect for that relaxing break.
In the north of Puglia, there are sandy beaches and forests and in the South, the arid landscape is more reminiscent of Greece than Italy. Around Torre Canne (near Fasano), you will see the largest lido style beaches with facilities that you would expect in Italy. However a short drive away, you can find your own private cove and swim from the rocks!
What to eat?
Puglian cuisine will not disappoint, with a fusion of Italian, Greek and Spanish flavours it is one of tastiest in Italy. Expect to eat plenty of fresh fruit, olives, grilled meat and fish, exquisite bread and copious amounts of wine. The region accounts a large percentage of Italy's oil and also rivals Sicily as one of Italy's largest wine producers (over 100 wines).
Where to stay?
Holiday Homes in Italy offer an excellent selection of villas in Puglia. from quality Trulli (these cone roofed building date to the middle ages and are unique to the region), Masserias (Puglian farmhouses) and wonderful villas with private pools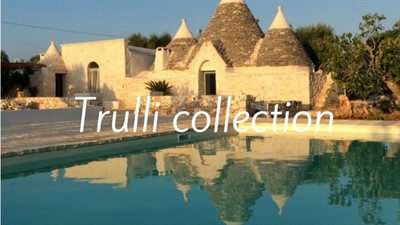 How to get there?
Puglia is served by two main airports; Bari in the north and Brindisi in the south.
Why Puglia?
It is one of our favourite regions in the whole of Italy. All in all Puglia ticks all the boxes; it is very reasonably priced, easy to get to from most airports, great weather, beautiful coastlines, unique towns, amazing food and wonderful people. It has often been said that Puglia is how Italy used to before tourism took hold. Take a look at our beautiful apartments and villas below, we guarantee you won't be disappointed.