Sardinia villas - from Holiday Homes in Italy - the villa specialists



Sardinia villas - from Holiday Homes in Italy - the villa specialists
We offer a good selection of high end villas in Sardinia aswell as budget apartments
Sardinia is an excellent holiday destination - an unspoilt and beautiful island where you can relax in a haven of peace and tranquillity. Be warned: you will fall in love with the place! Welcoming locals, a wonderful natural environment and some of the most gorgeous beaches in Europe.
Sardinia is the second largest island in the Mediterranean and is graced with endless soft and golden beaches and crystal blue sea. The sun is always shining all over the beautiful bays and the wild inland mountains. The island offers a wide range of attractions, from quiet coves and beaches to nature reserves and mountaintop ruins. A very diverse islands considering its size. Inland, the countryside is rich with agriculture and the landscape includes ravines, crags, valleys and wooded hillsides. On the northern shores you have the glitzy glamour of the millionaires' playground of Costa Esmeralda. To the south, around the Golfo di Orosei with its endless supply of stunning beaches which look almost deserted.
A different feel to mainland Italy and closer to the island of Corsica than the Italian coast, it may look small on a map but Sardinia really has it all. An old legendary tale says that when God finished making the world, he threw his last handful of dirt into the sea near Italy and stepped on it, creating the island of Sardinia. The contours of His divine foot formed some of the worlds most spectacular landscape. Haphazard rugged coastline, tiny rivers, rolling hills and imposing mountain ranges help to sustain its population of around 1 million people which are often described as much to sturdy to be Italian.
Move away from the high-end material distractions of the glitterati of Costa Esmeralda, Sardinia's tourist industry is still in its infancy and has not changed the island one bit. The cuisine and language (its diverse dialect means it is not a place to practise your Italian) of this region render it a cultural anomaly which creates curiosity among the mainland Italians who flock to its crystal-clear waters.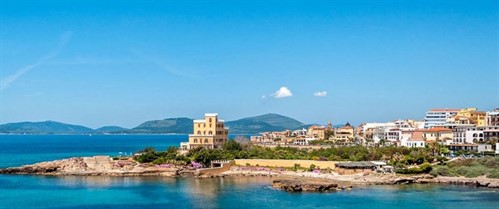 The resorts
Many of the towns are laden with whitewashed and pastel coloured houses and narrow cobbled streets. The towns on both the northern and southern coastlines are a mixture of new and old, many with small fishing harbours and other with pretty seafronts with bars and restaurants.
Alghero - situated on islands north-west coast in the area known as the coral riviera Alghero is probably one of the most popular tourist resorts in Sardinia. This town boasts a rare Italian phenomenon, a tourist town that is also a busy and flourishing fishing port. The old town with its flamboyant churches and narrowed cobbled streets, influenced by both Italian and Catalan cultures are sheltered by a stout girdle of walls. It is a cosmopolitan town with a great selection of bars, shops and restaurants, golden beaches and a beautiful harbour and being a stone's throw from the airport makes it the perfect destination for the traveller who does not wish to venture far.
Costa Smeralda - A stretch of alluring coastline running from the Gulf of Cugnana to the bay of Arzachena where the jet set have been coming since the 1960's and when The Aga Khan started a few high-end developments. The news spread which resulted it becoming a bolthole for not only the rich & famous, including the royalty from around the globe. The main resort of Porto Cervo (also known as the Costas capital), resembles a terracotta Portmeirion, with meticulously arranged flower beds and designer couture shops and the immaculate harbour where the super yachts fight for position in the crystal blue waters.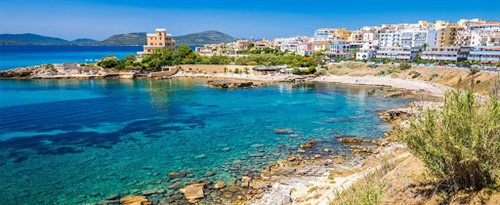 Top things to do in Sardinia
For nature lovers, there are many different wildlife including flamingos, wild horses and seals and the island also has an abundance of history with many Roman ruins, temples and grottos to visit.
Walking - one of the most appealing things about hiking in Sardinia is the sheer variety of trails on offer, from picturesque walks along the coast, tackling mountain peaks or hiking through gorges. The island is dotted with some fascinating historical sites and one of the best of these you can see is by hiking up to the mountain top to see the ruins at Tiscali, a Nuragic village that dates back to the year 6BC.
Cruising & sailing tours - why not take a boat trip for a great day out to La Maddelena, a lively but small Island off the north coast of Sardinia. The nature reserve of Caprera is a gem with spectacular Mediterranean coastline combines with the community spirit of the Island and the traditional culture of its historical port.
Sights & landmarks - the island is dotted with some 7,000 megalithic monuments and the only remnants of the islands 1st inhabitants. Visit the Su Nuraxi fortress at Barumini, according to the UNESCO World Heritage centre this archaeological site is Sardinia's best-known example of the unique form of Bronze Age defensive complexes known as Nuraghe.
Wine tasting - it's easy to see why Sardinia earnt its name as Wine island in the 16th century, a mild climate, plenty of good limestone and fragmented granite soils paved the way for dozens of indigenous grape varieties. Some of the more popular reds, Cabinet and Grenache are its most popular, head towards Sassari and stop at the natural wine producer Tenute Dettori, where you can enjoy a leisurely dinner with wine tasting in this agritourism tucked away in the craggy hills.
Food & drink - typical Sardinian cuisine tradition boasts very ancient roots but expect recipes based on fish and dishes which make use of all kinds of beans. Dishes vary from area to area but there are many special varieties of pasta including fregola and lorighittas. Sardinians love their bread and panadas, which are oven baked pies filled with many different fillings. Sardinia is also a major exporter of cheese and wine and don't miss its famous Myrtle flavoured liqueur, Mirto.
Beaches & swimming - with over 1,800km of coastline, Sardinia has some fantastic beaches and the azure of Mediterranean Sea is one of the most photographed in all of Italy and thus features endlessly in International articles & magazines. We highly recommend the Costa Smeralda, Gonone, Stintino, Oristano and Villasimus.
Sports - Sardinia is one of the most popular destinations for aquatic sports and there is no shortage of options available from scuba diving to sailing and water skiing. You can go fishing by day or night and for those more adventurous the island has excellent climbing possibilities. The extremely quiet roads mean the island is popular with cyclists enjoying a safer than normal ride. In addition, it is an excellent way to discover endless deserted beaches.
Getting around and to Sardinia
There are three main airports to access Sardinia; Cagliari in the South; Alghero in the North West and Olbia in the North East. If you want to venture from your chosen resort, car hire or taxi is the best solution. There is a very accessible and not to busy motorway network that links the north and south. For the more adventurous you can take the mountain route which runs the length of the island, however please bear in the mind there is very little amenities en-route (ensure you have a full tank of fuel and supplies as this journey from one end of the island to the other can take a good few hours depending upon what you meet along the way). For train enthusiasts you can go from Cagliari to Arbatax through pleasant rolling hills where olive & almond trees grow in abundance.
Sardinia weather & best time to visit
Unless you enjoy scorching hot temperatures and endless hours of sunshine, then the shoulder months of April to June, where temperatures hover around low 20's and thus making it a good time to explore cities on foot or take in a walking or cycling adventure holiday. September & October are also good times of the year as the weather is warm enough to be classed as summer and ideal for those that like to swim in the sea as the Mediterranean heats up after July & August.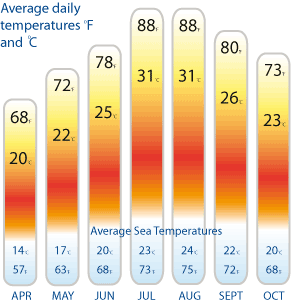 Why visit Sardinia?
Sardinia is an excellent holiday destination - an unspoilt and beautiful island where you can relax in a haven of peace and tranquillity. Be warned: you will fall in love with the place! Welcoming locals, a wonderful natural environment and some of the most gorgeous beaches in Europe.
Sardinia offers some of the best luxury villas in Italy and we are confident you will find a location that will give you a holiday to remember. From the heart of the Emerald coast to the beautiful town of Porto Rotondo, it is very difficult to describe the beauty of Sardinia but it is mostly unspoilt and rugged and offers a perfect destination for those wanting to get away from it all.