Villas in Sicily for rent - a spectacular holiday destination



Villas in Sicily for rent - a spectacular holiday destination
We are proud to offer a fine selection of villas in Sicily and some lovely apartments for those on a budget
Famed for its beautiful beaches, cuisine, and cultural melting pot, the island makes for an excellent destination for travellers who want to immerse themselves in its astounding beauty and rich history.
The magnificent island of Sicily sits across the borders of Europe and Africa but belongs to not one nor the other and represents the very essence of Italy. An infatuation with history, the arts, architecture and culture with tantalising food, marvellous beaches and all with an active volcano providing a stunning backdrop to the regions landscape of treasures.
Sicily is the largest island in the Mediterranean and with its proximity to Africa it is definitely the hottest region, experiencing a wonderful climate and one that can be enjoyed all year round. The region truly offers something for everyone, magnificent beaches with diverse sands, natures reserves, remote hill towns below vast mountain ranges covered in wild flowers and its haunting active volcano.
The most popular part of the island and close to its near join with Italy is the east side. As you can imagine it is a busy and a lively area particularly the town of Taormina with its upmarket glitz and breath-taking views. Head over to the west of the island and the crowds reduce but be rest assured is equally as beautiful.
We have some fantastic villas for rent in Italy, therefore we highly recommend a holiday here.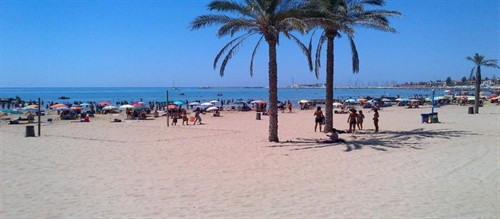 The resorts
Taormina in the east is the most popular resort in Sicily and is a jewel of a destination sited on a natural terrace sheer above the sea, dominating two sweeping bays below. The view goes straight across the sea and reaches the Calabria coasts, the town of Siracusa and the Etna's peak. This is an ideal destination all year round, thanks to the mild climate and the touristic offer oriented to fun, relaxation and joie de vivre. Enjoy the shops, bars, restaurants and piazzas in a really cosmopolitan destination. The luxury apartment, Casa Luigi, is definitely one to look at; with it's shared pool and panoramic position on the coastline, it is ideally located between the historic centre and the sea.
Cefalu in the north is a smaller resort but still offers a lot for the potential tourist; not only are there wonderful beaches but a beautiful medieval heart with plenty of restaurants, shops and café's to watch the world go by. The town is endowed with elegant buildings in a mixture of styles, which reflect Sicily's varied influences, from Norman to Byzantine, and Arab to European. The picturesque harbour is also worth a mention and is a perfect spot to buy fresh fish. There are kilometres and kilometres of gorgeous beaches and south of the town is the Madonie National Park with its enchanting villages, breathtaking scenery and impressive mountains and some wonderful walking.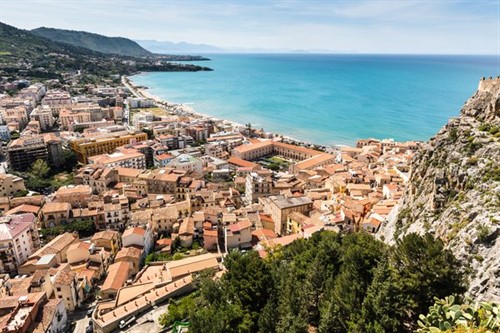 Ragusa in the south is an outstanding town; a labyrinth of alleyways, quaint stone houses and baroque palazzi and architecture, which has earned it UNESCO World Heritage status. Its history and culture makes it fascinating but the sight of the town clinging to the hill upon its approach is really quite breath-taking. The beaches near Ragusa are spectacular - it has half the blue flag beaches of Sicily - here you will find golden sand, clear water and clean and uncrowded beaches. Marina di Ragusa is the most popular and lively resort, Sampieri and Marina di Modica are both perfect for families and Modica also offers a bay which is windsurfers' paradise.
Modica in the south is a real hidden gem. Baroque in style, this charming city is only 15 km from Ragusa. The town, located between two valleys and on Pizzo's hill, is a harmony of churches, palaces and buildings of the eighteenth century (all built according to the late baroque style). Think narrow, quaint streets, inspiring domes, squares, and fantastic architecture - its picture postcard perfect! It also boasts a lovely marina and beach.
Trapani in the north-west is a great point to explore western Sicily. The town itself is famous for its lively historical centre with its boutiques, restaurants, cafès and bars. It also benefits from being positioned on the Tyrrhenian coast, which offers magnificent marine scenery and areas of outstanding beauty. From the beaches of Castellammare del Golfo and San Vito Lo Capo, to the rock formations of Scopello, the Zingaro nature reserve, and the islands of Levanzo, Marettimo and Favignana, the area is simply stunning! All around Trapani you can find unique fishing villages, where you can experience an unspoilt and authentic Sicily.
What to do in Sicily?
Walking - hiking up Mount Etna is the obviously must-do for walking enthusiasts but we also recommend some fine guided excursions along the routes of Sicily's natural parks, whilst those who prefer to relax their weary legs on holiday can opt to explore the magic of rural Sicily by either horse-back or mountain biking. A top choice for us is the Madonie Mountains where colours explode across the landscape in both spring and autumn, highlighting the array of vivid colours of the craggy slopes, with some truly jaw-dropping panoramic sea views and coastline to the Aeolian Islands taking in the best flora and fauna the countryside has to offer.
Beaches - with over 1,000km of coastline with crystal clear waters, rocky shores and alluring grottos Sicily makes for a great beach holiday destination. The beaches range from the whitest powder to the moonscape like rocks of the Turkish steps and the blackest of volcanic sand. As of 2019 the island has 17 beaches which have been awarded the iconic blue flag status. Here you can also find some of Italy's finest beachside fish cafes, nature reserves and hidden coves. If you like the throng of the crowds then Cefalu's beaches are picturesque and renowned for their beauty with great facilities, however, these can get very busy in the summer months. We found a hidden gem when travelling by train out of Palermo and the stop before Cefalu called Lascari, an amazingly little-known bay and overlooked and missed by the madding crowds, however keep this to yourself as this stunning location can be quiet even in the summer months and still hosts a couple of great eating places.

Boats & Sailing tours - surrounded by fantastic coastline, it would be a shame not to take a boat trip for the day either along the coast or to one of the many little beautiful islands scattered around Sicily's shores. If you're looking to marvel at Mount Etna dominance from the sea, take in a grotto or two, or go dolphin watching, the island has something for everyone. We splashed out for the day and took as skippered motorboat to find some great secluded scenery and off boat swimming and snorkelling. The highlight was capturing some of Sicily's renowned sea urchins which the locals kindly prized open for us to eat directly from the ocean, scooped out of the shell with some freshly baked bread they were truly delicious.
Sports & activities - as Sicily is a region of water and volcanoes, it offers great hiking opportunities and well renowned as a mountain bikers paradise. For a more relaxing and luxury excursion, there are many thermal spas and wellness centres on the island where one can find various regenerating and therapeutic beauty treatments. We liked the program at Wellness Centre Florio Beauty House with a great selection of treatments for those who wish to unwind from stress and daily life by "spa-ing". If it's more action you require then these crystal clear and calm waters make them perfect for windsurfing, sailing, scuba diving and snorkelling. The dive school at Isola Bella, the blue grotto on the Ionian coast is one of the best on the island.
Wine tasting - the mineral rich volcanic shores of this island and its year-round climate make it perfect for cultivating a great wine harvest. Sicily is probably best known for its heavy Nero d'avola grapes and the lighter notes and delicate flavours of the Frappato grapes. But more famously and historically the island is better recognised for its production of Masala wine, unique and fortified and originally created in the 18th Century by an Englishman to export to the British market. To learn more and get a taste of Masala wine through history then Baglio Donna Franca is probably the best-known vineyard and within easy reach of Masala town. This winery and restaurant have views out to the sea and is surrounded by the lush landscape of its vineyards and the sunset from the terrace is simply breath taking. Maybe worth taking the taxi rather than the hire car!
Shopping - if shopping is one of your holiday needs, Sicily has a lot to offer. For the main high street shops and boutiques, you will need to venture to the bigger cities. For craft and antiques, the market on the second weekend of each month at Mascalucia, the southern end of Etna, is great for a one stop shop and a bit of haggling. We also can recommend the smaller food market of Ortigia, connected to Siracusa by a bridge. We find it's very difficult to visit without trying a fresh plate of oysters washed down with the local frizzante. If its food you want to take back to the villa then there's a wide range of great local produce you can buy from extra-virgin olive oil, juicy red oranges, sweet grapes of Canicattì, Pachino tomatoes, Pantelleria capers, prickly pears and the olives of Nocellara del Belice are some of the excellent products that distinguish Sicilian food. Probably most popular to buy are chick peas, sundried tomatoes and of course the wines of the region. We like buying these from some of the local charities dotted around, in particular "Libera Terra", a charity that helps people to farm land that has been confiscated by the mafia.
Sights & Landmarks - the most well-known site on this diverse island is Mount Etna, the greatest active volcano in Europe. On Sicily's eastern coast it is one of the fundamental stops for those wanting to discover this region. Its spectacular eruptions have created unique landscapes over the centuries. Number 2 on the list has to be a world treasure certified by UNESCO is the archaeological area of Agrigento, one of the most important towns of Magna Graecia. The famous Valley of the Temples - surrounded by green olive groves, almond trees, citrus orchards and vineyards that stretch out to the sea with all its imposing and elegant monuments - fantastically evokes an atmosphere of 2500 years ago and best toured around using one of the great local guides on offer for a small charge, these enthusiastic and locally proud speakers really do bring the site to life and set the scene of what the times were like back then.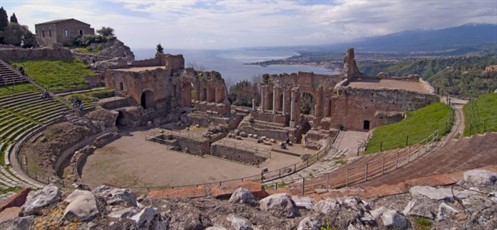 Food - the warmth of the island of Sicily is evident in its food. There's a wide array of appetizers to try from croquettes to cazzilli and crispeddi of Catania to name a couple and as the region has no tradition of antipasto as within the rest of Italy, these are usually eaten pre dinner and washed down with a sparkling aperitif while watching the sunset. Then on to the main event, the rich plates of freshly caught fish or local island meat dishes are a favourite choice in many restaurants. And finally, dessert and one you should not pass up on, the famous Sicilian pastries, cannoli, mainly prepared with ricotta cheese and almond paste and we cannot complete this section without mentioning lemon granita made from the world-famous Sicilian lemons.
Events & festivals - the Sicilians love to celebrate and enjoy great festivals and events throughout the year. Any reason will do, from religious events on Mount Etna, particularly at Easter, to their love of food and a good harvest, to their passion for music and opera. We love the summer event of DiVino, because it celebrates the islands wine harvest! Held annually in the streets of Trapani, surrounding the beautiful castle in Castelbuono. Usually occurs around the 28th to 31st July and here you will undoubtably sample the finest Sicilian wines, local produce and great blues music for a unique atmospheric evening.
How to get to and around Sicily?
Resorts in the east such as Taormina and Syracuse are served by Catania airport. Resorts in the north such as Cefalu are served by Palermo airport. Trapani in the north west has its own Tranpani airport but is also served by Palermo. The southern resorts of Ragusa and Modica, part of the Val di Noto are served by the local Comiso airport but it is also possible to use Catania.
If it's a ferry ride you are looking for you can arrive to Sicily's many ports from the many ports of Italy - even as far north as Genoa. If it's short hop over from Italy's mainland you prefer then you can travel on a car or passenger ferry operating throughout the year and only a short distance from Reggio Calabria to Messina, a mere 25 minutes.
If hiring a car is not an option then once in Sicily you can travel by train or bus. Buses are the preferred route for many and the most reliable, as the train service in Sicily is renowned for being very old and unreliable. Both modes of transport though do operate in to all the main towns and cities of the island and there is also a subway for getting around the cities of Catania and Palermo.
When's the best time to visit Sicily and the best weather
Parts of this island are on the same latitude as the north African coast which makes Sicily a very mild climate with spring and autumn being the most pleasurable months weather wise but even in the heat of July and August where temperatures can soar you can still enjoy a cooling breeze from the sea when you are down by the coast. A longer season than the mainland means from March to October in particular, you can enjoy the days being brighter. If it's more of an active holiday you seek the months of July and August can be stifling and not for the faint hearted, so best to avoid. We love April for an activity holiday as you have the cooling winter breaking through to a balmy spring and September for sunbathing and swimming, as it starts to cool from the summer months but the sea is still lovely and warm.
Why visit Sicily?
Nature seems to have endowed all its wonders to this land. Mountains, hills and above all the sea, with its incredible colours, its crystal-clear water and the beauty of its coastline. In Sicily, the Mediterranean Sea offers unique and intense sceneries unlike anywhere else in Italy with scents and flavours of uncontaminated nature. Its great volcanoes are also symbolic of the irresistible beauty and vitality of this incredibly charming region.
If you are looking for an unforgettable trip, look no further than Sicily. The Mediterranean's largest island (just slightly larger than Sardinia), is famed for its beautiful beaches, cuisine, fascinating history and a cultural melting pot. We are proud to offer over 100 beautiful villas for rent in Sicily with private pools all hand-picked to the highest quality and some stunning apartments for those on a budget. It is also possible to find renovated farmhouses for those looking for a more rustic stay.
Trust us when we say Sicily is a unique holiday destination and won't disappoint!