Umbria - an unspoilt beautiful region of Italy
A good selection of villas and apartments in Umbria, with some stunning locations, we highly recommend a visit to this region
Dotted with splendid medieval hill towns and offering the chance to escape the crowds in Tuscany, Umbria presents a great alternative for those wanting to visit their own little piece of Italy. Umbria certainly has some great attractions and is widely considered to be one of the most beautiful regions in Italy.
Umbria is one of the few landlocked regions in Italy, and locals often refer the region as "il Cuore verde dell' Italia" ("Italys green heart:). Heart is something that this area has plenty of. It is the landscapes of Umbria that exert the most lasting charm; rolling hills, valleys and lakes make it gentle and serene.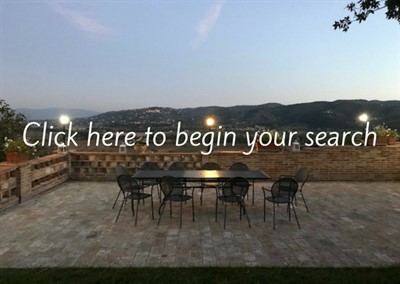 The locations
What you find in Umbria is a wealth of impressive towns, which rival those of Tuscany. Assisi is beautiful with an array of cobbled streets, impressive piazzas, geranium filled window boxes, wonderful architecture and of course the world famous Basilica di San Francesco.
The region's capital Perugia is a star attraction; a stylish and bustling hill city with a strong cultural tradition and some splendid monuments. In the summer during the Umbrian Jazz festival, Perugia takes centre stage with a range of events.
The hill town of Gubbio is one of the most striking with medieval architecture and surrounded by rugged and wooded landscapes. Many have classed this town as the 'Siena of Umbria'. The gorgeous hill town of Todi is a sophisticated little place with its impressive Piazza del Popolo and medieval public buildings. Other delights include Orvieto, a remarkable town with an extraordinary cathedral; Spello, often referred to as Assisi's little sister; Bevagna, a sleek and welcoming little gem of a town and the almost unknown Trevi. The dominating hill town of Montefalco, which is often referred to as "the balcony of Umbria"..
Lake Trasimeno has a subtle and sleepy charm and is a great location for swimming, fishing, water sports and horse riding. It takes an hour to drive around its 35-mile circumference and is surrounded by gentle hills covered with olives and vineyards. There are a number of interesting resorts around the lake. Passignano is a lively and modern resort with shops, fish restaurants and bars. The enticing Castiglione del Lago on the West shore is dominated by a 14th century fortress and has some pleasant beaches. Tuoro and San Feliciano to the south are pleasant as is Panicale with its picture postcard views over the lake and medieval core.
What to do?
For history lovers, you are spoilt for choice - the region is endowed with many spectacular medieval hill towns offering the chance to step back in time and learn about its history.
If you love your food and wine, then there are many gastronomic tours which lend themselves to a perfect day trip - the region is famous for its wines so a vineyard tour is a must!
If you are looking for culture, Umbria is awash with art exhibits, drama, opera, classical music, and performances, many of which are outside or take place in the magnificent piazzas.
And there is nothing wrong with simply relaxing by the pool and soaking up the rustic Italian landscape of rolling hills.
How to get there?
There are three main ways to access Umbria. Its regional airport is in Perugia, however, it is easily possible to vist the region via Pisa & Florence in Tuscany and the Rome airports in Lazio.
Where to stay?
Due to its popularity as a holiday destination, Umbria does have a great selection of properties to rent and ranges from the typical Umbrian farmhouses to apartments in Borgos, villas, townhouses, village apartments and houses.
What to eat?
Umbria's cooking is uncomplicated, hearty and excellent. The towns markets are awash with local produce and the region produces great olive oil, wheat and truffles. The Umbrians love their pasta and you will find a great selection in local restaurants. The wines from the region are internationally recognised, especially the king of Umbrian wines, Orvieto and Orvieto Classico, which are delicate dry whites.
Why Umbria?
In conclusion, Umbria does have it all: wonderful countryside, excellent hill towns, lively Perugia for shopping and nightlife, Lake Trasimeno for swimming and water sports, mountains for walking, excellent culture and strong traditions. The rich combination of countryside, magnificent medieval towns and not forgetting the lake, give Umbria its own identity and it won't take long for this green heart of a region to steal your own.
Discover all our villas in Italy