Villas in Marina del Cantone
A step back in time through winding streets down to a wonderful cobblestone beach this low key town nestles sweetly in the hills of Nerano
A small hidden-away reosrt with a low-key vibe and an excellent family friendly beach. When foreign holidaymakers swarm to the famous resorts on the Sorrentine peninsula, Marina del Cantone is a refuge for Italian locals and travellers-in-the-know who'll drive over the hills from Sorrento, or take a boat along the coast, to enjoy a swim and a good lunch.
Beach - the largest (pebble) beach on the Sorrento Peninsular and therefore attracts many sun worshippers. Surrounded by famous and well equipped restaurants, bars and hotels.
What to do - From here it is possible for boat tours to the Blue Grotto of Capri aswell as many other caves dotted along the stretch of coast. however, if you feeling a little braver or active you can hire your own boar and visit many of the tiny islands on the horizon
Apart from relaxing on the beach, and eating spaghetti, one of the best things to do here is to take a short walk along the coast to the next little idyllic bay named Recommone. The path emerges into a boatyard by a house, then through a gateway you come onto the small beach. On the far side is a hotel/restaurant beach club. This is a true hidden gem and we highly recommend a visit.
The village has a good choice of café bars, trattori and beach shacks. Howver it you are looking to melt your taste buds and enjoy some fine dining there are two excellent Michelin star restaurants, the Taverna del Captiano and the Quattro Passi
How to get there - The slender road winds down to the sea through rolling vineyards and the small town of Nerano, with a good parking area just a short walk from the beach. It is also reacheble by bus from Santa'Agata sui due Golfi and Sorrento. Positano is the last of the well-known destinations on the Amalfi coast heading west and despite being on the same coastline, Marina del Cantone has a very more relaxed feel.
Start planning your Amalfi Coast holiday in 2023
Browse our collection of villas and apartments available for memorable holiday in the Amalfi Coast in 2023
Why book your Italian villa with us?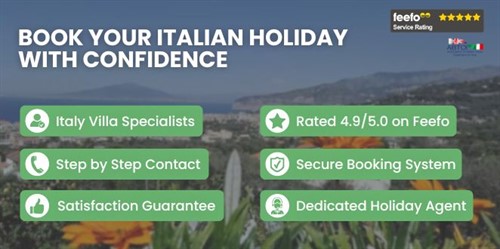 Value
Discover a wide range of villas in Italy at the best prices, flexible payment terms, excellent early booking & last minute offers with no hidden costs

Choice
With a great choice of over 1,000+ hand-picked holiday villas in Italy ranging from those on a budget to clients looking for an Italian dream

Tailored
We are proud to be Italian specialists for your holiday, where enquiries are bespoke to you. Our expert knowledge helps you make decisions

Trusted
Dedicated Italian Villa Agency - Benefit from over 15 years experience, great customer service, secure booking and thousands of satisfied clients