Where to stay in Lake Como
Wondering where to stay in Lake Como? Well here is our guide to help you decide
Lake Como is one of the three most famous lakes in Italy and has been popular with International visitors for centuries. Known for its dramatic scenery and shaped like an upside-down letter Y, with three slender branches which meet at the resort town of Bellaggio. Renaissance villas, castles and beautiful gardens are a reminder of the times when Como was a playground of the European elite. Its legacy continues today with Milanese fashion designers, footballers and Hollywood film stars all gracing its shores but you certainly don't have to be a celebrity to take part and a holiday in Como need not break the bank. Wordsworth thought it "a treasure which the earth keeps to itself" surrounded by abundant vegetation that reflects and zigzags across the water, many say the most romantic of all the lakes.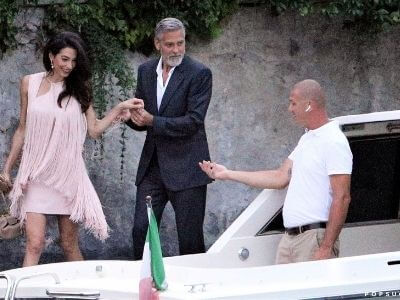 In addition to visiting the various pretty towns around the lake (Como has a twice weekly market which is worth a visit), there are a wealth of activities on offer from golf to tennis, boating and fishing. The lake also offers easy access to the many beautiful cities in northern Italy, such as Milan, Bergamo, and Turin, where there is no shortage of culture, history and designer shops! The increasing numbers of designer outlets are just a short distance away.
In comparison to its famous sister Lake Garda, Como is a more tranquil and wooded lake with beautiful surrounding countryside. Just one hour from bustling Milan, the lake offers a calm and magical combination of Mediterranean shrubbery and mountain peaks. It is 50km long and very deep. Good food, a relaxed lifestyle, warm summers and autumns make it a perfect destination for holidays.
The Resorts
1. Como - magnificently located at the southern tip of the lakes left fork may not offer as much of the picture postcard prettiness we expect to find from a lakeside town. The old town however offers a pleasant place to wander or eat and funicular ride to Brunate has amazing views across the lake. It also offers a widely accessible hub in which the best transport links are provided to all of the lakes many resorts. The town of Como itself is very pretty and has an old walled section with an impressive cathedral and many Gothic and Renaissance buildings.
2. Menaggio - a lively & bustling resort providing a great base for hiking and cycling in the mountains. People also flock here to take advantage of its beaches for a sunbathe or swim and the famous Menaggio & Cadenabbia golf club. It boasts an elegant lake promenade lined with trees & flowers and attractive old buildings and therefore a beautiful picturesque setting of ancient origins overlooking Lake Como. The historic town sloping up the lake shore makes it an excellent place to stay.
3. Bellagio - this village, jutted out into the lake, is cradled by Cyprus spiked hills and is located on the tip of the triangle separating Como's two legs. Labelled the most beautiful town in Italy, known for its promenade & cobbled lanes and of course the Villa Serbelloni Park, an 18th century terraced garden with lake views. This tiny town is a superb spot to roam away an afternoon or two on a relaxing romantic vacation. It has an elegant air, yet with the water sports and mountain activities, is not a pretentious place.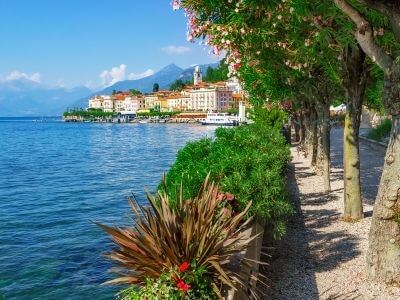 4. Lecco - this city is in the south eastern shore of Lake Como, surrounded by mountains of scored granite which it sits at the base of and is almost fjord like. This lesser known area of Italy's spectacular lakes is only an hour from Milan and can be a frantic commercial centre. However, it still offers delightful architecture against an impressive alpine setting with lakeside views but notably without the crowds and cruise ships of its more well-known neighbours.
5. Tremezzo - the wonderful villas, mainly Villa Carlotta and its gardens boasting over 500 flower & plant species set in over 14 acres of land, and imposing hotels built from the 18th to 19th century have made this lakeside retreat and international tourism hot spot. It's an overall laid-back place and popular with the discerning middle-aged traveller. This town with its imposing historical tower definitely has two distinctive sides, coastal and hilly, thus offering visitors of choice of different paths to follow.
6. Varenna - this attractive traditional fishing village is crowned at its peak by the Castello di Vezio which then cascade down the steep narrow alleyways to the lake front some would say this pretty village shaded by pines is the finest place on the lake to visit. Its lack of souvenir shops makes it a sleepy village where most come here to simply relax by the waters-edge.
Why visit Lake Como?
Visiting Lake Como is a must-do thing on your Italian itinerary. There is good selection of Lake Como villas to choose from, many with breath-taking views, from wonderful period villas to exclusive apartments. Parts of the lake are extremely expensive and on a par with Tuscany but there are many options suitable for those looking to explore the region on a budget. All in all, Lake Como is a great option for a holiday, more sophisticated than its sister lakes and is extremely appealing, offering both relaxation or plenty of activities in addition to some excellent varied choice of accommodation.
Browse our Lake Como collection
We have a wide range of villas and apartments to suit all holidays. From large villas for groups of families & friends to enjoy together, to cosy romantic hideaways for couples and honeymooners
Start planning your holiday in Lake Como 2023
Browse our collection of villas and apartments available for memorable holiday in Lake Como for 2023
Why book your Italian villa with us?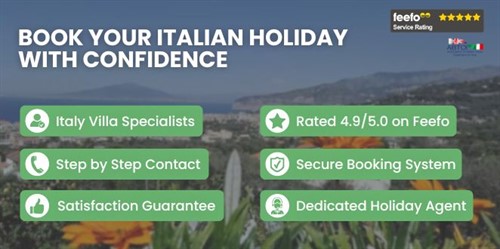 Value
Discover a wide range of villas in Italy at the best prices, flexible payment terms, excellent early booking & last minute offers with no hidden costs

Choice
With a great choice of over 1,000+ hand-picked holiday villas in Italy ranging from those on a budget to clients looking for an Italian dream

Tailored
We are proud to be Italian specialists for your holiday, where enquiries are bespoke to you. Our expert knowledge helps you make decisions

Trusted
Dedicated Italian Villa Agency - Benefit from over 15 years experience, great customer service, secure booking and thousands of satisfied clients