Villas in Ceglie Messapica
This amazingly preserved historic centre of Apuglia oldest towns is delightful with its moreish style whitewashed buildings and charming piazzas filled with bars, restaurants and gelatarias
One of the oldest towns in Puglia, dated back to the 15th century BC and has one the largest and most preserved historical center of the region. The medieval city has a perimeter of around 5km was once the economic trade center of the area. It is located between Brindisi and Taranto, approximately 11km south of Ostuni.
The town itself is filled with historic tours, church & cathedral vists, in particular the Castelle Ducale. Outside the town walls we highly recommend a day exploring the numerous caverns & grottos. The surrounding countryside is filled with excellent many Trulli, most with private pools to enjoy a relaxing holiday but also with easy access roads to navigate explore this wonderful region, even in peak season Puglia does not seem to become a mass of tourists.
There town has recently become a popular gastronomic center therefore comes with a choice of many fine restaurants all priced reasonably. During June to September there seems to be a food or wine festival every week, with music, dancing, processions and mainly to discover local produce.
If you would like a day off from the beach then we recommend a visit to Ceglie Messapica for a day.
Contact us for recommendations at info@holidayhomesinitaly.co.uk
Browse our Puglia collection
We have a wide range of villas and apartments in Puglia to suit all holidays. From large villas for groups of families & friends to enjoy together, to cosy romantic hideaways for couples and honeymooners
Start planning your holiday in Puglia 2023
Browse our collection of villas and apartments available for memorable holiday in Puglia for 2023
Why book your Italian villa with us?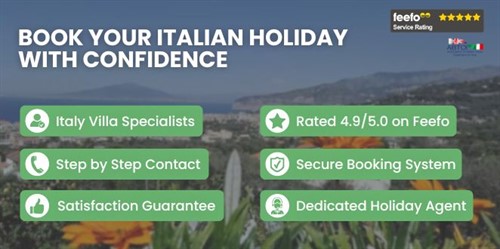 Value
Discover a wide range of villas in Italy at the best prices, flexible payment terms, excellent early booking & last minute offers with no hidden costs

Choice
With a great choice of over 1,000+ hand-picked holiday villas in Italy ranging from those on a budget to clients looking for an Italian dream

Tailored
We are proud to be Italian specialists for your holiday, where enquiries are bespoke to you. Our expert knowledge helps you make decisions

Trusted
Dedicated Italian Villa Agency - Benefit from over 15 years experience, great customer service, secure booking and thousands of satisfied clients