Galipoli means "Beautiful City" in Greek and it truely is. Its meandering shop and cafe filled streets, lead to its city walls and sea views. Sip a cocktail whilst watching the heavenly sunset.
Gallipoli literally translated from Greek means "beautiful city" and it definately lives up to its name. It's a really picturesque town surrounded by high walls which were built to protect it against attacks from the sea. The historic old town sits on an island connected to the mainland by a 17th century bridge.
In peak season, bars and restaurants spill out onto the streets, which in turn provides a charming atmosphere. An evening passeggia around the walls, looking out to sea, is a great way to prepare for dinner. The town is also important fishing centre and fresh fish cn be purchased from the fish market just to the side of the walls. You will be spoilt for choice of bars and restaurants, most of which have great views of the sunset
The town is formed with many long sandy beaches to the north and south and are respected throughout Italy as being some of the cleanest and clearest waters. The main beach is the Spiggaio dell Purita on the side of the old town. From here many visitors opt to hire a boat for the day from the port and are priced more reasonably than you would think.
Gallipoli is situated on the west coast of the Salento peninsular in the Gulf of Tarnanto on the Ionian see. It is approximately 90km south of Brindisi and around 40 minutes drive from Lecce
We highly recommened a visit to Gallipoli is you are holidaying in Puglia. Our property portfolio will be increasing during 2019 for this region
For recommendations on where to stay please contact us on info@holidayhomesinitaly.co.uk
Browse our Puglia collection
We have a wide range of villas and apartments in Puglia to suit all holidays. From large villas for groups of families & friends to enjoy together, to cosy romantic hideaways for couples and honeymooners
Start planning your holiday in Puglia 2023
Browse our collection of villas and apartments available for memorable holiday in Puglia for 2023
Why book your Italian villa with us?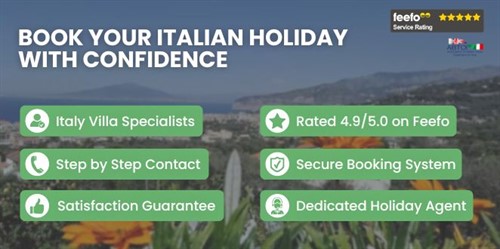 Value
Discover a wide range of villas in Italy at the best prices, flexible payment terms, excellent early booking & last minute offers with no hidden costs

Choice
With a great choice of over 1,000+ hand-picked holiday villas in Italy ranging from those on a budget to clients looking for an Italian dream

Tailored
We are proud to be Italian specialists for your holiday, where enquiries are bespoke to you. Our expert knowledge helps you make decisions

Trusted
Dedicated Italian Villa Agency - Benefit from over 15 years experience, great customer service, secure booking and thousands of satisfied clients