This pretty town with its white washed centre holds a panoramic position in the middle of the Itria valley, a calm & laid back feel this "Rotund" centre is charming to explore
Officially known as one of the Boghi piú belli d'Italia, the most beautigul villages of Italy, Locorotondo is a gorgeous white-washed town in a panoramic position (also known as the balcony of the Valle d'Itria) over the surrounding countryside. The narrow rectagular houses with pointed roofs are eye catching and circle round the edge of the center, hence the "rotund" part of the town name.
There is no real tourist attractions here, however it is simply a nice place to spend an evening dining, drinking and stolling around. The main square is the Piazze Vittori Emanuele at the top of the slope and has cafe's and a tourist information office.
Locorotunda is famous for its wine, which you will find in many restaurants throughout Puglia, in addition to aother speciality, the u tridde, a freshly made pasta with pecorino cheese and parsley in a turkey broth.
The town is located between Martina Franca and Alberobello in the heart of the Valle d'Itria. People wishing to explore Puglia often visit all three towns in the same day, however none of them are alike so really it depends on which takes your fancy the most
Contact us for recommendations at info@holidayhomesinitaly.co.uk
Browse our Puglia collection
We have a wide range of villas and apartments in Puglia to suit all holidays. From large villas for groups of families & friends to enjoy together, to cosy romantic hideaways for couples and honeymooners
Start planning your holiday in Puglia 2023
Browse our collection of villas and apartments available for memorable holiday in Puglia for 2023
Why book your Italian villa with us?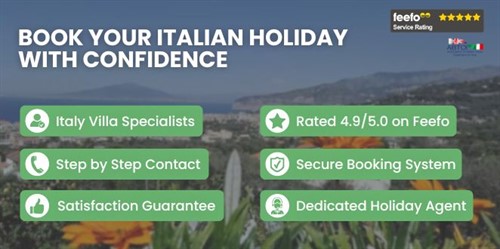 Value
Discover a wide range of villas in Italy at the best prices, flexible payment terms, excellent early booking & last minute offers with no hidden costs

Choice
With a great choice of over 1,000+ hand-picked holiday villas in Italy ranging from those on a budget to clients looking for an Italian dream

Tailored
We are proud to be Italian specialists for your holiday, where enquiries are bespoke to you. Our expert knowledge helps you make decisions

Trusted
Dedicated Italian Villa Agency - Benefit from over 15 years experience, great customer service, secure booking and thousands of satisfied clients