Wondering where to stay in Puglia? Well here is our guide to help you decide
Puglia is a diverse region with a perfect blend of rustic landscapes and kilometres of pristine coastline; it boasts some of the cleanest beaches in Italy and it is rare to see overcrowding like in the northern beach resorts. The towns offer a wealth of history and its countryside is charming & picturesque with olive trees, orange soil and pretty white houses - an artist's dream!
Labelled "The heel" of Italy and invaded & conquered by just every major power of the day, it seems that the Greek and the Spanish left the biggest impression to this whitewashed region. The area maintains great cultural wealth with remote medieval villages, coned roofed houses and ports with a distinctive middle eastern flavour.
From the very start of this region in the north and often called the "spur" of the heel you can visit the nature reserve of the Gargano peninsular, untouched, unspoilt & uninhabited. Then venture further south past sandy beaches, hilltop towns, medieval fortresses & conical houses onto the southern tip where the seas of the Adriatic & Ionian meet.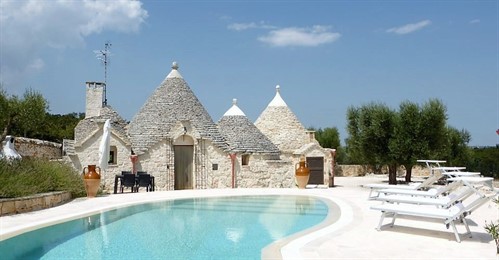 The resorts
1. Alberobello - an upmarket gem of a town and capital of the Trulli region, a designated UNESCO World Heritage site, filled with magic & mystery. With manicured tree lined streets - leading up to the main church and steering off into the old Trulli part of the town - where strange conical white dwellings crowd the narrow streets even with trulli shops, restaurants and a Trulli Cathedral which leads onto a large relaxing main square where you can take in the comings and goings of probably the most visited and popular towns of this region.
Read more about Alberobello...
2. Gallipoli - please do not dismiss this town from it's first impression when entering. The new part of town on the mainland in uninspiring but park the car & walk over the bridge to the old town where things get much more interesting. This entrance to the medieval island is guarded by an Angevin castle which leads into a maze of meandering white-washed streets, with produce and spices that add a splash of colour to every corner. A walk around the walls of the town is a must as the day comes to a close, rest the legs in a bar whilst sipping cocktails and enjoying the magnificent sunsets.
3. Monopoli and Egnazia - the first of the two, a pretty and colourful romantic sleepy fishing village. Away from the tourist drawl it offers a picturesque town and local beaches and a typical Puglianese relaxed pace to provide a base for your holiday. The ancient city of Egnazia on the other hand, its neighbour and an important Messapian Centre. With its 2km of walls, some still standing at 7m high is also known for its water here which is tempting and clear - so bring your swimming stuff and a picnic. Just to the south of Monopoli is the wonderful beach resorts of Torre Canne & Capitolo which are lined with water sports clubs & some mouth-watering sea food restaurants.
4. Polignano a Mare - by far the most photographed part of Puglia and a true jewel of the region. This little town has it all, small coves for a relaxing day at the beach, cliff top views out on to the great blue yonder, places to eat and sleep carved in to the rocks and finally one of the best Focaccia shops in the whole of Italy. Whether its shopping for local crafts, sampling the catch of the day or sitting in a piazza eating ice cream and watching the children play, this is one of our favourites and not to be missed.
Read more about Polignano a Mare...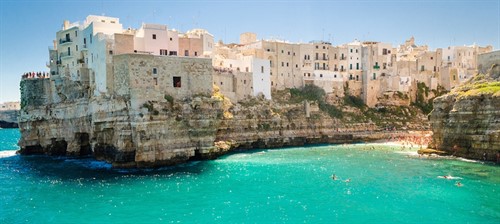 5. Martina Franca - the drive up to this town is genuinley lovely with the olive trees slowly giving way to vineyards and cherry and peach orchards neatly partitioned by dry stone walls and still plentiful with little Trulli dwellings. Once entering this town go straight to the old quarter, a picturesque scene of winding alleys, white-washed houses sitting side by side with Baroque extravagance. Well known for its festivals, in particular its Della Valle I'Itria which attracts people from all over the world.
Read more about Martina Franca...
6. Ostuni - also known as the "White City", and one of southern Italy's most beautiful small towns. Situated on three hills, it is characterised by pretty white houses, small piazzas with bars and restaurants many with exceptional views. Its old centre, situated on the highest of these hills, offers a tangled assortment of cobbled streets, many of which have arched stairways between the houses. This town gleams like a beacon on the hillside from the view below and still retains its medieval character within is tiny enclave.
7. Otranto - a popular town for the passegiata around its harbour, which was once one of the most leading ports in the trade with Asia, but now a significantly much sleepier affair. The Aragonese built castle that overlooks the port adds to the towns charm. With its winding streets and crystal-clear waters of the port and beaches, the town ensures a wonderful relaxing day and evening with a holiday atmosphere.
Cisternino & Ceglie Messapica - these two smaller towns, often overlooked, are the oldest towns in Puglia, dating back to the 15th century with the latter having a large historic centre which is amazingly well preserved. Surrounded by expanses of vineyards, almond trees, olive groves and form the base of the Valle d'Itria, well worth a visit.
Read more about Ceglie Messapica...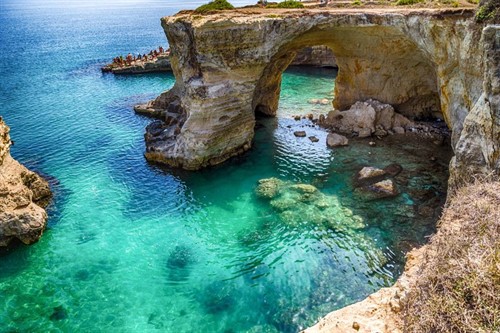 Why visit Puglia?
It is one of our favourite regions in the whole of Italy and we offer some truly wonderful holiday villas in Puglia. In the north, there are sandy beaches and forests whilst in the South, the arid landscape is more reminiscent of Greece than Italy. Around Torre Canne (near Fasano), you will see the largest lido style beaches with facilities that you would expect in Italy. However, a short drive away, you can find your own private cove and swim from the rocks!The beauty of this region is that it is narrow enough to enable you to sleep by the sea and travel inland by the day. All in all, Puglia ticks all the boxes, it is very reasonably priced, easy to get to from most airports, great weather, beautiful coastlines, unique towns, amazing food and wonderful people. It has often been said that Puglia is how Italy used to before tourism took hold.
Puglia offers an excellent selection of holiday home, from divine coned shaped Trulli, stunning flat roofed Masserias and beath-taking sea view apartments. This is all part of the Mediterranean dream, white washed houses, picturesque fishing ports and historic hill towns. With a huge coastline and lovely countryside, Puglia is perfect for that relaxing break with irresistible charm at affordable prices what's not to love!
Browse our Puglia collection
We have a wide range of villas and apartments in Puglia to suit all holidays. From large villas for groups of families & friends to enjoy together, to cosy romantic hideaways for couples and honeymooners
Start planning your holiday in Puglia 2023
Browse our collection of villas and apartments available for memorable holiday in Puglia for 2023
Why book your Italian villa with us?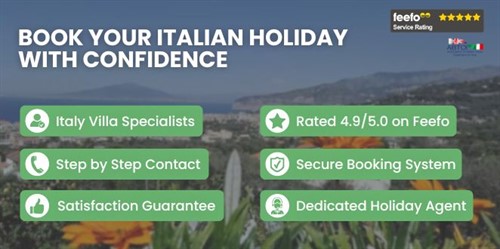 Value
Discover a wide range of villas in Italy at the best prices, flexible payment terms, excellent early booking & last minute offers with no hidden costs

Choice
With a great choice of over 1,000+ hand-picked holiday villas in Italy ranging from those on a budget to clients looking for an Italian dream

Tailored
We are proud to be Italian specialists for your holiday, where enquiries are bespoke to you. Our expert knowledge helps you make decisions

Trusted
Dedicated Italian Villa Agency - Benefit from over 15 years experience, great customer service, secure booking and thousands of satisfied clients