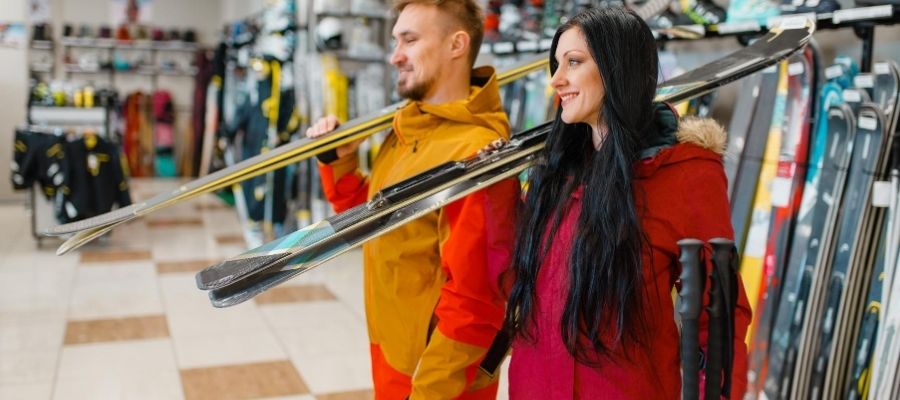 Ski hire prices for Sestriere
Holiday Homes in Italy can offer discounted prices of the ski hire in Sestriere. They provide excellent customer service and always available for any help or advice needed.
For large group orders, we will ask you for your requirements, levels, sizes etc then arrange your equipment to be prepaired ready for you to collect on arrival and get out on the slopes as soon as possible.
Further discounts can be applied to the prices below if also booking ski passes, ski school, accommodation and airport transfers through ourselves.
Prices will be calculated using the exchange rate from euros to GBP on the day of order.
| | | | | | | | | |
| --- | --- | --- | --- | --- | --- | --- | --- | --- |
| Category | 1 day | 2 days | 3 days | 4 days | 5 days | 6 days | 7 days | + days |
| Economy ski | €11 | €19 | €27 | €36 | €43 | €50 | €58 | €6 |
| Basic skis | €13 | €24 | €36 | €46 | €56 | €64 | €71 | €9 |
| Intermediate skis | €16 | €30 | €46 | €59 | €71 | €80 | €92 | €11 |
| Top skis | €20 | €41 | €60 | €77 | €93 | €109 | €123 | €15 |
| Platinum skis | €26 | €46 | €67 | €86 | €97 | €119 | €132 | €17 |
| Baby <119cm skis | €7 | €12 | €17 | €22 | €26 | €30 | €34 | €4 |
| Junior 120-140cm skis | €8 | €16 | €22 | €27 | €34 | €39 | €44 | €5 |
| Boots basic | €7 | €12 | €17 | €23 | €27 | €32 | €36 | €4 |
| Boots top | €9 | €18 | €27 | €35 | €42 | €50 | €57 | €4 |
| Boots baby <35 | €4 | €7 | €10 | €13 | €16 | €18 | €20 | €2 |
| Boots junioe 36-38 | €5 | €9 | €12 | €16 | €19 | €23 | €26 | €3 |
| Junior snowboard <140cm | €13 | €24 | €35 | €46 | €53 | €62 | €72 | €9 |
| Intermediate snowboard | €16 | €30 | €45 | €60 | €71 | €82 | €92 | €11 |
| Snow shoes | €8 | €15 | €22 | €26 | €31 | €36 | €40 | €6 |
| Snow blades <120cm | €13 | €24 | €35 | €46 | €52 | €62 | €71 | €9 |
| Accessories (helmet etc) | €3 | €6 | €8 | €11 | €14 | €16 | €18 | €2 |
Opening times
Monday-Sunay 08:30-18:30
Ski equipment can be collected the day before skiing from 16:00 onwards
Vouchers
All clients mush give the shop a pre-agreed voucher (provided by Holiday Homes in Italy)
Longer periods & half days
For ski rental of more than 6 days, please consider the 7th day as free. Other additional days are to be considered as on contract (for 8 days, calculate 6 days + 1 day). If the client wishes to add an afternoon hire (after 12:00) at the start of their stay the supplement is 50% of the 1 day price
Children
If the childs height or boot size doesn't correspond with those necessary for the junior equipment pricdes the client will be charged the difference in the shop
Payment
Payment must be made at least two weeks prior to arrival
Cancellation & changes
Cancellation for individuals can be made at any time through us. If the client doesn't turn up at the shop, a refund cannot be guarenteed. For groups, full cancellation will be accepted upto 1 week prior to arrival. Unless otherwise agreed for groups, any upgrades are to paid directly by the client to the hire shop
Extra services for groups
For groups staying in hotels more than 300m from the shop, a pick or delivery service can be organised on request free of charge. Clients must always go to the shop on arrival to try boots and have bindings regulated
Ski recognisation
All skis & boots are marked with a barcode and the clients name for easy recognition
Insurance
If skis are lost, stolen or damaged the client is liable for the full payment of the value of the equipment. An insurance policy can be made with the hire shop for full cover
Ski deposit
Subject to availability, clients can leave their skis & boots at the hire shop for the following prices (to be paid in resort) €20 per week for skis + boots, €10 for boots only
Get great discounts off extras when booking accommodation through us