One of Sicily's most distinctive cascading medieval hill towns famous for its marvellous baroque architecture and cathedral and a centre for chocolate making
Wonderful historic Modica, located in south eastern Sicily, is a UNESCO World Heritage Site along with other Baroque towns of Scicli and Ragusa and Noto in this part of the island and is well worth a visit.
The town is divided into two parts, the Alta (upper) and Bassa (lower), which also represents the old town and new town. They are divided by a gorge that is spanned by Europe's highest bridge, the 300m high Guerriera Bridge, which is not for those afraid of heights but does provide a breathtaking view of the city. The centrepiece is undoubtedly the beautiful Church of San Giorgio, though the "Castello dei Conti", at the top of town is also very impressive.
Just out of town, the beaches at Marina di Modica and Sampieri are absolutely splendid and relatively quiet outside August.
Modica is famous for its 400-year tradition of confectionery crafting, from when cocoa was brought by the Spanish during their rule over Sicily. As you would expect there are plenty of chocolate shops around and, for the real chocoholic, it is sometimes possible to watch the "chocolatiers" at work.
The nearest airport is Comiso but it is not international and flights are not often. The most economical way to reach here would be through Catania airport.
Browse our Sicily collection
We have a wide range of villas and apartments in Sicily to suit all holidays. From large villas for groups of families & friends to enjoy together, to cosy romantic hideaways for couples and honeymooners
Start planning your holiday in Sicily 2023
Browse our collection of villas and apartments available for memorable holiday in Sicily for 2023
Why book your Italian villa with us?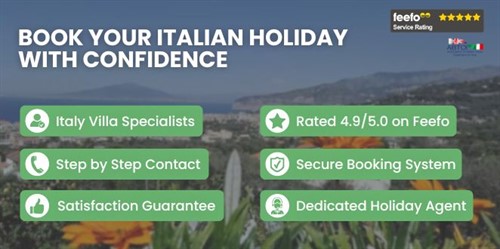 Value
Discover a wide range of villas in Italy at the best prices, flexible payment terms, excellent early booking & last minute offers with no hidden costs

Choice
With a great choice of over 1,000+ hand-picked holiday villas in Italy ranging from those on a budget to clients looking for an Italian dream

Tailored
We are proud to be Italian specialists for your holiday, where enquiries are bespoke to you. Our expert knowledge helps you make decisions

Trusted
Dedicated Italian Villa Agency - Benefit from over 15 years experience, great customer service, secure booking and thousands of satisfied clients