Looking for things to do in Sicily? Here are just a few of our recommendations.
1. Walking - hiking up Mount Etna is the obviously must-do for walking enthusiasts but we also recommend some fine guided excursions along the routes of Sicily's natural parks, whilst those who prefer to relax their weary legs on holiday can opt to explore the magic of rural Sicily by either horse-back or mountain biking. A top choice for us is the Madonie Mountains where colours explode across the landscape in both spring and autumn, highlighting the array of vivid colours of the craggy slopes, with some truly jaw-dropping panoramic sea views and coastline to the Aeolian Islands taking in the best flora and fauna the countryside has to offer.
2. Beaches - with over 1,000km of coastline with crystal clear waters, rocky shores and alluring grottos Sicily makes for a great beach holiday destination. The beaches range from the whitest powder to the moonscape like rocks of the Turkish steps and the blackest of volcanic sand. As of 2019 the island has 17 beaches which have been awarded the iconic blue flag status. Here you can also find some of Italy's finest beachside fish cafes, nature reserves and hidden coves. If you like the throng of the crowds then Cefalu's beaches are picturesque and renowned for their beauty with great facilities, however, these can get very busy in the summer months. We found a hidden gem when travelling by train out of Palermo and the stop before Cefalu called Lascari, an amazingly little-known bay and overlooked and missed by the madding crowds, however keep this to yourself as this stunning location can be quiet even in the summer months and still hosts a couple of great eating places.

3. Boats & Sailing tours - surrounded by fantastic coastline, it would be a shame not to take a boat trip for the day either along the coast or to one of the many little beautiful islands scattered around Sicily's shores. If you're looking to marvel at Mount Etna dominance from the sea, take in a grotto or two, or go dolphin watching, the island has something for everyone. We splashed out for the day and took as skippered motorboat to find some great secluded scenery and off boat swimming and snorkelling. The highlight was capturing some of Sicily's renowned sea urchins which the locals kindly prized open for us to eat directly from the ocean, scooped out of the shell with some freshly baked bread they were truly delicious.
4. Sports & activities - as Sicily is a region of water and volcanoes, it offers great hiking opportunities and well renowned as a mountain bikers paradise. For a more relaxing and luxury excursion, there are many thermal spas and wellness centres on the island where one can find various regenerating and therapeutic beauty treatments. We liked the program at Wellness Centre Florio Beauty House with a great selection of treatments for those who wish to unwind from stress and daily life by "spa-ing". If it's more action you require then these crystal clear and calm waters make them perfect for windsurfing, sailing, scuba diving and snorkelling. The dive school at Isola Bella, the blue grotto on the Ionian coast is one of the best on the island.
5. Wine tasting - the mineral rich volcanic shores of this island and its year-round climate make it perfect for cultivating a great wine harvest. Sicily is probably best known for its heavy Nero d'avola grapes and the lighter notes and delicate flavours of the Frappato grapes. But more famously and historically the island is better recognised for its production of Masala wine, unique and fortified and originally created in the 18th Century by an Englishman to export to the British market. To learn more and get a taste of Masala wine through history then Baglio Donna Franca is probably the best-known vineyard and within easy reach of Masala town. This winery and restaurant have views out to the sea and is surrounded by the lush landscape of its vineyards and the sunset from the terrace is simply breath taking. Maybe worth taking the taxi rather than the hire car!
6. Shopping - if shopping is one of your holiday needs, Sicily has a lot to offer. For the main high street shops and boutiques, you will need to venture to the bigger cities. For craft and antiques, the market on the second weekend of each month at Mascalucia, the southern end of Etna, is great for a one stop shop and a bit of haggling. We also can recommend the smaller food market of Ortigia, connected to Siracusa by a bridge. We find it's very difficult to visit without trying a fresh plate of oysters washed down with the local frizzante. If its food you want to take back to the villa then there's a wide range of great local produce you can buy from extra-virgin olive oil, juicy red oranges, sweet grapes of Canicattì, Pachino tomatoes, Pantelleria capers, prickly pears and the olives of Nocellara del Belice are some of the excellent products that distinguish Sicilian food. Probably most popular to buy are chick peas, sundried tomatoes and of course the wines of the region. We like buying these from some of the local charities dotted around, in particular "Libera Terra", a charity that helps people to farm land that has been confiscated by the mafia.
7. Sights & Landmarks - the most well-known site on this diverse island is Mount Etna, the greatest active volcano in Europe. On Sicily's eastern coast it is one of the fundamental stops for those wanting to discover this region. Its spectacular eruptions have created unique landscapes over the centuries. Number 2 on the list has to be a world treasure certified by UNESCO is the archaeological area of Agrigento, one of the most important towns of Magna Graecia. The famous Valley of the Temples - surrounded by green olive groves, almond trees, citrus orchards and vineyards that stretch out to the sea with all its imposing and elegant monuments - fantastically evokes an atmosphere of 2500 years ago and best toured around using one of the great local guides on offer for a small charge, these enthusiastic and locally proud speakers really do bring the site to life and set the scene of what the times were like back then.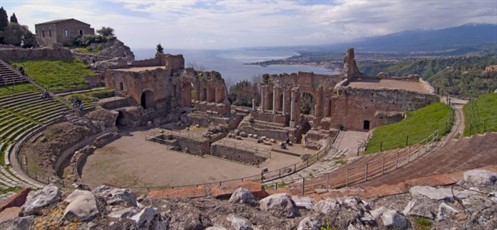 8. Food & drink- the warmth of the island of Sicily is evident in its food. There's a wide array of appetizers to try from croquettes to cazzilli and crispeddi of Catania to name a couple and as the region has no tradition of antipasto as within the rest of Italy, these are usually eaten pre dinner and washed down with a sparkling aperitif while watching the sunset. Then on to the main event, the rich plates of freshly caught fish or local island meat dishes are a favourite choice in many restaurants. And finally, dessert and one you should not pass up on, the famous Sicilian pastries, cannoli, mainly prepared with ricotta cheese and almond paste and we cannot complete this section without mentioning lemon granita made from the world-famous Sicilian lemons.
9. Events & festivals - the Sicilians love to celebrate and enjoy great festivals and events throughout the year. Any reason will do, from religious events on Mount Etna, particularly at Easter, to their love of food and a good harvest, to their passion for music and opera. We love the summer event of DiVino, because it celebrates the islands wine harvest! Held annually in the streets of Trapani, surrounding the beautiful castle in Castelbuono. Usually occurs around the 28th to 31st July and here you will undoubtably sample the finest Sicilian wines, local produce and great blues music for a unique atmospheric evening.
Browse our Sicily collection
We have a wide range of villas and apartments in Sicily to suit all holidays. From large villas for groups of families & friends to enjoy together, to cosy romantic hideaways for couples and honeymooners
Start planning your holiday in Sicily 2022
Browse our collection of villas and apartments available for memorable holiday in Sicily for 2022