Villas in Le Marche for 2022
Start planning your 2022 dream holiday in a gorgeous Le Marche villa
Overlooked by many and probably the most underated region in Italy. Le Marche has beautiful countryside, impressive towns and a great coastline making this region definately worth exploring. Often referred to as "the next Tuscany" because of its similarity but without the mass tourism yet to land.
With its own lost cost airport in Ancona, it is difficult to understand why more people are not visiting and we believe it is only a matter of time therefore we recommend getting there soon. We recommend Le Marche to people who have been and done Tuscany, looking for something a bit different. On their return their appreciation is shown for introducing them to this region and start to plan their return next year.
Start browsing your Villa in Le Marche for 2022 for an unforgettable holiday.
If you would like us to do the villa searching for you email us at info@holidayhomesinitaly.co.uk
Browse all our villas in Le Marche
We have a wide range of villas and apartments in Le Marche to suit all holidays. From large villas for groups of families & friends to enjoy together, to cosy romantic hideaways for couples and honeymooners
Start planning your holiday in Le Marche 2023
Browse our collection of villas and apartments available for memorable holiday in Le Marche for 2023
Why book your Italian villa with us?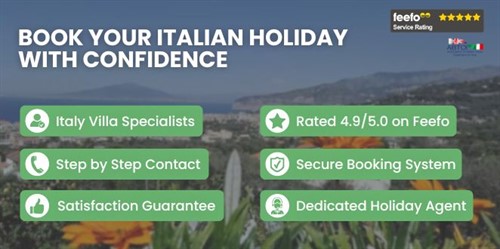 Value
Discover a wide range of villas in Italy at the best prices, flexible payment terms, excellent early booking & last minute offers with no hidden costs

Choice
With a great choice of over 1,000+ hand-picked holiday villas in Italy ranging from those on a budget to clients looking for an Italian dream

Tailored
We are proud to be Italian specialists for your holiday, where enquiries are bespoke to you. Our expert knowledge helps you make decisions

Trusted
Dedicated Italian Villa Agency - Benefit from over 15 years experience, great customer service, secure booking and thousands of satisfied clients