Italian sea view villas and apartments
gaze from a beachfront or clifftop for the perfect sea view villa
Discover & admire a breathtaking of the Italian crystal clear waters
What better way to relax than a sea view property for your Italian holiday break. Relax and unwind while watching the tranquil still waters lap on to your own patch of paradise. Whether its the hustle and bustle of a harbour view you love, watching the fishing boats tooing and froing or or a more tranquil spot of cliff side cascading into to great blue yonder. We have properties to suit everyone.
Imagine breakfast on a veranda or sipping cocktails on a beach retreat. Which would you choose? Some of our finest properties can be found by the sea.
Holiday Homes in Italy have carefully handpicked a collection of villas and apartments in Italy with a sea view. Contact us for recommendations info@holidayhomesinitaly.co.uk
Why book your Italian villa with us?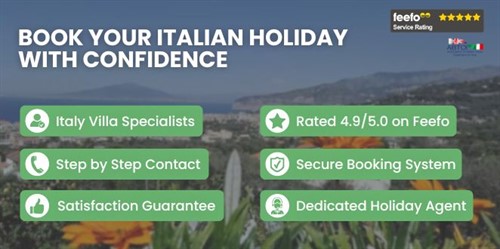 Value
Discover a wide range of villas in Italy at the best prices, flexible payment terms, excellent early booking & last minute offers with no hidden costs

Choice
With a great choice of over 1,000+ hand-picked holiday villas in Italy ranging from those on a budget to clients looking for an Italian dream

Tailored
We are proud to be Italian specialists for your holiday, where enquiries are bespoke to you. Our expert knowledge helps you make decisions

Trusted
Dedicated Italian Villa Agency - Benefit from over 15 years experience, great customer service, secure booking and thousands of satisfied clients
Villas in Italy 2023
Are you dreaming about holidays in Italy? Start planning for 2023 and browse our Italian villa collection with over 1,000 handpicked properties ranging from budget friendly apartments to luxury high-end villas.
We believe there will be high demand for villas in peak season therefore strongly advise to book early.