Villas in Italy suitable for disabilities
Wheelchair friendly villas
Ensure a relaxing and stress free holiday in Italy with a perfectly adapted villa
With cobbled streets, historic buildings and endless hill-towns, Italy may not spring to mind when looking for wheelchair friendly holidays. However, the beautiful open countryside, vast beaches and pedestrianised town centres make Italy an excellent holiday choice. Limited mobility does not mean limited holiday options in Bella Italia as there are many self-catering apartments and villas with wheelchair access that offer the perfect solution for a carefree and fun holiday.
Many home owners have adapted their properties specifically as they understand the needs of wheelchair users, allowing independent and stress free holidays. In addition, Italian people are very relaxed, friendly and welcoming - nothing is too much trouble for our family-owned property owners.
If you or any of your guests need wheelchair access or facilities for people with restricted mobility, we have the perfect villas in Italy for disabled people to make sure that your visit is accessible and enjoyable for all. Or why not contact us for recommendations info@holidayhomesinitaly.co.uk
Browse our collection of villas and apartments in Italy suitable for disabled people
Browse villas suitable for disabled by region
Why book your Italian villa with us?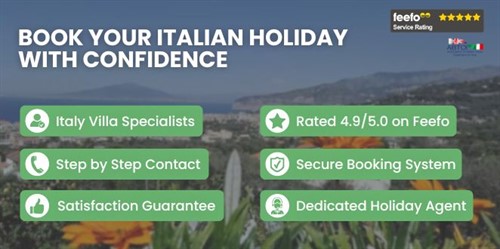 Value
Discover a wide range of villas in Italy at the best prices, flexible payment terms, excellent early booking & last minute offers with no hidden costs

Choice
With a great choice of over 1,000+ hand-picked holiday villas in Italy ranging from those on a budget to clients looking for an Italian dream

Tailored
We are proud to be Italian specialists for your holiday, where enquiries are bespoke to you. Our expert knowledge helps you make decisions

Trusted
Dedicated Italian Villa Agency - Benefit from over 15 years experience, great customer service, secure booking and thousands of satisfied clients
Villas in Italy 2023
Are you dreaming about holidays in Italy? Start planning for 2023 and browse our Italian villa collection with over 1,000 handpicked properties ranging from budget friendly apartments to luxury high-end villas.
We believe there will be high demand for villas in peak season therefore strongly advise to book early.