Luxury villa with direct sea access on the island of Ischia
Villa Ischia Lusso
798
Description
* Luxury villa for 14 people * Stunning panoramic sea views * Price for reduced capacity using less bedrooms but still have access to full grounds & pool * Direct sea access * Possible chef service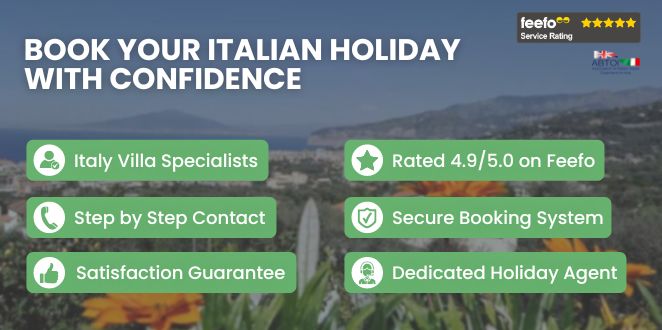 Nestled in the cliffs in a unique position on the island of Ischia among copses of mediterranean scrub, large panoramic terraces and rocks that have been carefully worked to allow easy access to the crystal-clear sea. The villa has been enclosed on all sides and access to the property is via an automatic gate that leads into the parking area, and from there you go down a short flight of steps to reach the property which looks entirely towards the sea.
As soon as you go through the entrance you will notice the quality of the architecture and of the furnishings, which consist entirely of antiques, alternating with modern accessories such as the sofas and comfortable chairs. Every room has been decorated with valuable tapestries and large mirrors, and all of the living areas have been organized with taste and an eye for the practical, so that you are assured a calm and enjoyable holiday.
All bedrooms have mosquito screens and air conditioning is available in all the rooms.The large kitchen is equipped with all the usual conveniences: dishwasher, electric and wood-burning ovens. Many of the bathrooms have hydromassage bathtubs and on the floor below the comfortable sauna is always available for guests.
There are two domestics living on the premises who look after the daily cleaning and the preparation of breakfast and dinner; the buying of food is also organised by the same people on agreement with the guests of the villa, who leave a deposit - the remains of which is returned at the end of their stay.
The large private terraces also contain a swimming-pool filled with sea-water and there are several areas furnished for relaxing or dining outside along with a descent down to the sea itself via a convenient flight of steps.
Swimming pool open 30/04 to 15/10
Accommodation - size 600sqm - sleeps 14 people in 7 double bedrooms & 7 bathrooms
Ground floor - access from the garden; entrance; spacious living-room with snooker table, fireplace and TV with access to panoramic terrace offering stunning sea views; 3 double bedrooms with en suite bathroom and whirlpool bath, 2 of which with sea views; 2 double bedrooms with en suite bathroom with shower, 1 of which with terrace and sea view.
Lower floor - spacious living-room with dining area leading to the swimming pool zone with various locations for relaxing, gazebos, sauna, outdoor wood-burning stove and beautiful sea panorama. This area also leads to the private slope down to the sea. Large kitchen with dishwasher, electric oven and wood-burning stove. 1 double bedroom with bathroom and whirlpool bath (located along the walkway that leads from the swimming pool to the slope down to the sea); 1 double bedroom with bathroom and shower and walk-in closet (located at the beginning of the slope down to the sea)
Location/distances
The villa lies about 20 minutes by car from the port of Ischia, and from there Naples can be reached in about an hour by ferry with your car on board and in about 40 minutes by hydrofoil. The island is full of excellent restaurants and of many well-known thermal resorts. Ischia offers a wealth of spectacular scenery and of archaeological remains that make it one of the most sought-after tourist destinations in the mediterranean.
Read more about Villa Ischia Lusso
Amenities
Facilities:
Microwave
Coffee maker
Cooking utensils
Oven
Hob
Washing machine
Dryer
Garden
Jacuzzi
Sauna
Dishwasher
Entertainment:
DVD Player
Amenities:
Internet
Air conditioning
Parking
Baby cot
Sea view
Luxury
Beachfront
Rates
| Start Date | Weekly Rate (£) | Minimum Stay | Arrival Day |
| --- | --- | --- | --- |
| 28 May 2022 | 16,200 | 7+ Nights | Saturday |
| 17 Sep 2022 | 13,500 | 7+ Nights | Flexible |
| 01 Oct 2022 | 9,000 | 7+ Nights | Flexible |
| 17 Dec 2022 | 16,200 | 7+ Nights | Flexible |
Price includes - 2 sets of bed and bath linen per week, cleaning during the week (6 hours/day, 7 days/week), final cleaning, baby cot, electricity
Additional charges payable at the property
| Compulsory charges | Cost |
| --- | --- |
| Refundable security deposit | €5,000.00 |
| Optional extras | Cost |
| --- | --- |
| central heating (if required) - price per day | €100.00 |
| Chef service, breakfast, lunch, pizza party | on request |
Availability
Booked
Provisional
Available
Reviews
We had a Wonderfull time. The staff was very kind and helpful. Everything was always in order and tide. The Villa is very comfortable and have this best location ever to enjoy the sunset and have drinks by the pool. Ischia is a great place for holidays. Weather, beaches, food. Everything is good and prices are more affordable than Capri. There is also no many international tourists, so you get the real Italian getaway.
We also lucky on finding a great charter company: we rented a Catamaran for a couple of days and they pick us up in front of the Villa. Was an excellent experience for the family.

We already miss our days in Ischia and hope to come back soon!
  Aug 2020
We loved our vacation. House Managers were extremely kind to all of us and delivered a flawless service! We all miss them both!
The property is well located as we did not mind driving to the village. The rooms were very clean and spacious.
We recommend the villa to all our friends and would not hesitate to go back on a future vacation.
Thanks for helping us creating wonderful memories!
  Oct 2019
This review is rather late but I wanted to let everyone know about our experience. I stayed here with friends and family. My husband an I decided to get married in Ischia and we choose this villa to stay in with our guest. The villa is truly amazing!! when you arrive you will come to a gate that you will need to buzzed in to enter. Once the gate opens your eyes will Immediately go to the beautiful view. This villa is right on the side of a cliff so all you see is water. Then you start to make you way down to the villa.When you reach the bottom you come to the main entrance. The space is wide open. The is very beautiful with old world feel. You won't be able to stop yourself from saying "wow". There is an enormous deck off the living room with a huge class dining table. On this level there are 6 bedrooms. Once you head down stairs you come to an in ground pool surrounded by a marble patio. On this level there are 3 more bedrooms all with ocean views. The kitchen is also on this level. There are stairs that lead down the cliff so you can go down to the water. the roof is all so pretty amazing. There isn't anything on the roof which I think would be nice if there was but we all would hang out up there at night. We even saw a volcano erupting in the distance. There are 2 live on premise care takers. They are very nice and amazing cooks. They called cabs for us, ordered food we need to make dinner cooked and cleaned. I would highly recommend this villa.
  Jul 2017
If I could go on a dream vacation- I would choose a beautiful villa, overlooking the sea, in a tropical destination. It would be safe, have lots to do, whether I chose to sunbathe by the sea, or take in the sites. I would choose to go on a "proper holiday" where someone else did the cooking. Well, it exists, and you have found your dream home. My 8 girl friends and I got together to celebrate a big birthday year. The house was beyond our expectations, with beautiful furniture, linens, and bathrooms, ample space to allow groups to get together, and plenty of nooks to be alone, inside and outside dining, surrounded by lush gardens. The highlight of the trip wasn't the house- it was the staff. Anna and her family fussed over us like we were their own family, catering to our dietary needs and wants, and made our trip so unexpectedly fun. They arranged for discounts with local vendors (including the spa) and were truly the highlight of our trip. The food they prepared was delicious, and we really enjoyed the creativity in decorating the table every evening with a new theme. We didn't speak conversational Italian, but between her son who spoke fluent English, and google translate (the house has wireless internet), we didn't lack for anything. The house sits on a very quiet bluff, near the town of Forio. We found walking to the nearby gardens (a must see) and bus stop (about 15 minutes one way) not difficult. Getting to the island villa was easy- the house arranged a driver to pick us up in Rome, get us and our luggage on the ferry, and return us to Rome. However, once on the island, taxis are a bit pricey- so you may wish to rent a car, especially if you plan to do a lot of exploring. Getting around by bus is easy and inexpensive, as long as you don't mind waiting occasionally. If you are looking for a unique and exquisite experience for vacationing with a large group, this is the house for you. We understand that it has been the set for many movies, and the setting for many weddings. Make sure you hire Anna and her family, so your trip can be even more Bellisima.
  Dec 2016