Large luxury villa in Positano with private pool
Villa Positano Bellissimo
802
Description
* Elegant Positano villa * With private pool * Spectacular panoramic views * 800m from the beach * Walking distance to shops, restaurants & beaches * Chef service on request * One of the best Amalfi Coast villas there is to offer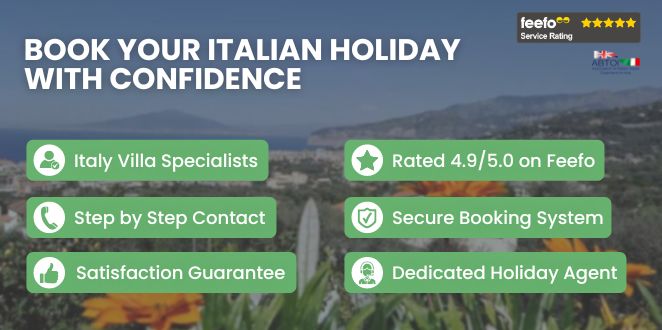 Villa with enchanting view both during the day and at night, the colourful houses hanging on to the hill, overlooking the sea and reaching as far down as to lick the shore, almost dipping into the crystal-clear sea.
The living-room areas, furnished with Mediterranean style furniture and light tapestries made of natural fabric that take on the various shades of linen, decorating windows from where you can enjoy a beautiful panorama. Outdoors the various terraces/sun terrace have relaxing areas and equipped areas for eating outdoors and at the same time offer a breathtaking panorama.
The villa is equipped with all the modern comforts: air conditioning in all the rooms, satellite TV, Internet connection WIFI,
telephone, fax, a well-equipped kitchen with oven and dishwasher, washing machine and other accessories, therefore perfect for a holiday and for working.
The villa has a fitness area with a 4m x 8m private swimming pool and Turkish bath for two people, a second whirlpool bath is located in the outdoor area. Easily accessed, something quite unusual for Positano, with a large private car park for 3 cars.
With private pool, spectacular panoramic views, walking distance to shops, restaurants & beaches, this has to be one of the best Amalfi Coast villas there is to offer
Swimming pool open all year round
Accommodation - size 450sqm - sleeps 12 people in 6 double bedrooms & 8 bathrooms
(The villa can be reached by a private car park by following along 3 ramps of stairs (about 50 steps))
Ground floor - spacious living-room with windows that overlook Positano and its gulf, 1 double bedroom with private bathroom with shower and access to the panoramic terrace, 1 double bedroom, 1 bathroom with shower.

1st lower floor - spacious dining room with fireplace and well-equipped kitchen with wood-burning pizza oven, access to the panoramic terrace equipped for outdoor dining, 1 WC with washbasin, 3 double bedrooms each with private bathroom with shower, two of which have access to the panoramic terrace.

2nd lower floor - 1 double bedroom with private bathroom with shower, fitness area with Turkish bath, 6 x 12 m private swimming pool and access to the panoramic garden. All the bedrooms in the villa have a panoramic view.

The villa has a lift/elevator and private parking for 3 cars
Location/distances - shops of Positano 400m, beach 800m, bus stop 100m, Sorrento 18km, Naples airport 55km
Read more about Villa Positano Bellissimo
Amenities
Facilities:
Cooking utensils
Oven
Hob
Washing machine
Garden
Safe
Gym
Lift
Jacuzzi
Indoor pool
Dishwasher
Entertainment:
Stereo System
Amenities:
Internet
Air conditioning
Parking
Baby cot
Sea view
Luxury
Walking distance to:
Walking to beach
Walking to bars or restaurants
Walking to shops
Walking to village/town
Rates
| Start Date | Weekly Rate (£) | Minimum Stay | Arrival Day |
| --- | --- | --- | --- |
| 04 Jun 2022 | 18,300 | 7+ Nights | Saturday |
| 03 Sep 2022 | 15,680 | 7+ Nights | Flexible |
| 17 Sep 2022 | 11,765 | 7+ Nights | Flexible |
| 17 Dec 2022 | 18,300 | 7+ Nights | Flexible |
| 07 Jan 2023 | 12,860 | 7+ Nights | Saturday |
| 08 Apr 2023 | 14,145 | 7+ Nights | Saturday |
| 15 Apr 2023 | 12,860 | 7+ Nights | Saturday |
| 06 May 2023 | 17,250 | 7+ Nights | Saturday |
| 03 Jun 2023 | 19,350 | 7+ Nights | Saturday |
| 02 Sep 2023 | 17,250 | 7+ Nights | Saturday |
| 30 Sep 2023 | 12,860 | 7+ Nights | Saturday |
| 23 Dec 2023 | 17,250 | 7+ Nights | Saturday |
Price includes - central heating, air conditioning, electricity, cleaning during the week (4 hours/day, 6 days/week), final cleaning, baby cot, 2 sets of bed & bath linen per week, supply of pool towels once per week, continental breakfast buffet (8.30 - 10.00), service and food included.
Additional charges payable at the property
| Compulsory charges | Cost |
| --- | --- |
| Refundable security deposit | €1,500.00 |
| Optional extras | Cost |
| --- | --- |
| Additional cleaning service - price per hour | €15..00 |
Availability
Booked
Provisional
Available
Reviews
Our 2nd time was even better
This was my second time here. The first time was in April/May 2015. It is a wonderful villa, to say the least!

My friends and I enjoyed our stay very much. We had some trouble getting the TVs to work and the internet was down for several days, and the espresso maker didn't work but the owner brought us another one after a few days. Otherwise everything was pretty much perfect, and the small inconveniences with the TV, internet and espresso machines were not a big deal in the end. We used the pool and sauna a lot and spent as much time as possible on the terrace enjoying the spectacular views. I appreciated that a path was added since we last stayed in the villa so that you can exit from the pool room and walk down to the pedestrian walkway that leads to the center of Positano. Last time we stayed, there was no path and you had to go up the stairs all the way to Via Marconi and enter the house from the front.

Positano is lovely and we enjoyed the town, as well as trips to Sorrento, Capri, Priano, and Ravello, and a morning hiking Il Sentiero degli Dei. I had wanted to visit Cetara, Vietri sul Mare, and Atrani, but we ran out of time, so we'll look forward to that on our next trip.

In all honestly what I liked best about the Villa was the house maid. She took such good care of us!! She welcomed us back with hugs and big smiles. She made sure we had everything we needed in terms of food and drink. She answered all of our questions, and we had dozens of them for her each day- everything from "how long does it take for the Jacuzzi to heat up" to "can you find someone to take us by boat for lunch in Praiano?" I have never seen someone work so hard in all my life. She is constantly on the move, watering plants, bringing in enormous bags of linens, managing to lift the jacuzzi cover herself when my husband and I had trouble doing it together. A few of the people in our group were very messy but she managed to make their rooms spotless very day. And she always had a big smile and tons of patience. I have never know a kinder or more helpful person. I happen to speak Italian, but when I was not there, she miraculously managed to communicate with my friends who don't speak Italian. She drew us maps, made wonderful restaurant suggestions, called taxis, shared recipes, and even managed to get a friend of hers to deliver pizza to us one night because the pizzeria down by the harbor would not deliver to the zona Chiesa Nuova. She is truly the very best part of renting the Villa.

Very best wishes from Boston!
  Aug 2019
A special time, thank you
I hope this email finds you well. I'm so sorry for this email taking me so long to write but I wanted to thank you for making our stay at Villa Positano Belissimo so wonderful. Our family had the most amazing time in the beautiful villa and I can't thank you enough for all of your help during our time there. The restaurants you recommended were all incredible, serving delicious food and wine in beautiful surroundings. Thank you for the gorgeous flowers you arranged as well as always making sure we had everything we needed especially a driver to get us to and from town with all of those stairs! Please also pass on our thanks the housekeeper. It was lovely to have her in the villa each day to ensure everything was perfect for us. She was always there to help us with anything we needed and was completely inconspicuous the entire time. Positano is one of my favourite holiday memories and I can't thank you enough for helping making our time so special.
  Apr 2017