Villas in Italy near amenities
Enjoy the perfect villa within walking distance of all your favourite things
What better holiday than being just a short stroll to the beach, restaurant or favourite bar
One of the most popular requests we receive from clients is finding a holiday home whereby they do not require the use of a car. If you love all the fun and freedom of a villa holiday, but don't like being stuck in the middle of nowhere, we have the perfect selection of well-located villas for you.
All our 'walking distance' villas are located within town or village locations, or within walking distance of essential amenities, avoiding the extra hassle and expense of a hire care.
So, whether your perfect holiday means being able to stroll to the beach, into the village and shops or wonder into town for a relaxing meal and drinks without worrying who's going to drive home, we're sure to have something for you.
However, if you prefer to lean on us to help your search then get in touch for recommendations info@holidayhomesinitaly.co.uk
Walk to the beach
Look no further for your beach retreat if you want to be located within a pebbles throw of one of Itay's stunning beaches. Why not choose a cliff top villa with a craggy short ramble to the local beauty spot or a more remote hideaway with its own perfect private sandy beach cove.
If you love being by the sea, relaxing on a beach or lido for your perfect break, then we have a wide variety of wonderful holiday homes that boast being just a short walk away or even set directly on the shoreline.
Stumble back from the restaurant
Italy's cuisine can boast being one of the best in the world, therefore how about making sure your holiday villa is a foodie haven (and wine) being near one of the many local restaurants in the area you have chosen for your holiday.
Imagine just an evening stroll through the olive groves to your dining spot or a passeggiata (the walk) along a promenade to a local eatery to sample the catch of the day, Holiday Homes in Italy has properties to suit every foodies pallet.
Why book your Italian villa with us?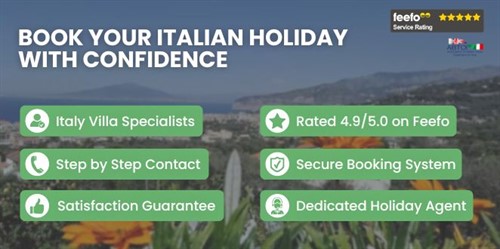 Value
Discover a wide range of villas in Italy at the best prices, flexible payment terms, excellent early booking & last minute offers with no hidden costs

Choice
With a great choice of over 1,000+ hand-picked holiday villas in Italy ranging from those on a budget to clients looking for an Italian dream

Tailored
We are proud to be Italian specialists for your holiday, where enquiries are bespoke to you. Our expert knowledge helps you make decisions

Trusted
Dedicated Italian Villa Agency - Benefit from over 15 years experience, great customer service, secure booking and thousands of satisfied clients
Villas in Italy 2023
Are you dreaming about holidays in Italy? Start planning for 2023 and browse our Italian villa collection with over 1,000 handpicked properties ranging from budget friendly apartments to luxury high-end villas.
We believe there will be high demand for villas in peak season therefore strongly advise to book early.